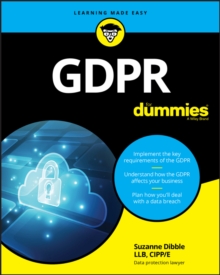 GDPR For Dummies
Paperback / softback
Description
Don't be afraid of the GDPR wolf! How can your business easily comply with the new data protection and privacy laws and avoid fines of up to $27M?
GDPR For Dummies sets out in simple steps how small business owners can comply with the complex General Data Protection Regulations (GDPR).
These regulations apply to all businesses established in the EU and to businesses established outside of the EU insofar as they process personal data about people within the EU. Inside, you'll discover how GDPR applies to your business in the context of marketing, employment, providing your services, and using service providers.
Learn how to avoid fines, regulatory investigations, customer complaints, and brand damage, while gaining a competitive advantage and increasing customer loyalty by putting privacy at the heart of your business. Find out what constitutes personal data and special category dataGain consent for online and offline marketingPut your Privacy Policy in placeReport a data breach before being fined 79% of U.S. businesses haven't figured out how they'll report breaches in a timely fashion, provide customers the right to be forgotten, conduct privacy impact assessments, and more.
If you are one of those businesses that hasn't put a plan in place, then GDPR For Dummies is for you.
Information
Format: Paperback / softback
Pages: 464 pages
Publisher: John Wiley & Sons Inc
Publication Date: 25/11/2019
Category: Computer science
ISBN: 9781119546092