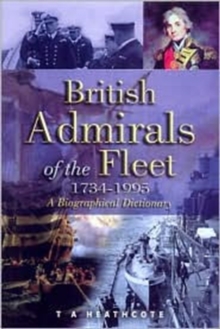 British Admirals of the Fleet 1734-1995 : A Biographical Dictionary
Hardback
Description
A companion volume to the same author's "The British Field Marshals 1736-1997", this book outlines the lives of the 115 officers who held the rank of Admiral of the Fleet in the Royal Navy from 1734, when it took its modern form, to 1995, when the last one was appointed.
Each entry gives details of the dates of the birth and death of its subjects, their careers ashore and afloat, their family backgrounds, and the ships, campaigns and combats in which they served.
Each is placed clearly in its domestic or international political context.
The actions recorded include major fleet battles under sail or steam, single-ship duels, encounters with pirates on the Spanish Main and up the rivers of Borneo, the suppression of the Slave Trade (for which the Navy receives little gratitude), landing parties to deal with local dictators and revolutionaries, and the services of naval brigades in China, Egypt and South Africa.
Free Home Delivery
on all orders
Pick up orders
from local bookshops