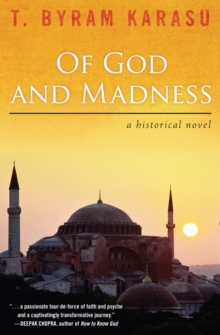 Of God and Madness : A Historical Novel
Paperback / softback
Description
Of God And Madness is the story of Adam, an emotionally troubled young man whose spiritual journey enables him to become a godly adult.
Adam is a child of a Jewish woman (a palace concubine) and the last sultan of the Ottoman Empire.
Raised in palatial surroundings by a French Catholic governess, Adam is exposed to the teachings of all three of the religions of Abraham, as he is tutored by an Armenian Christian music teacher, a Muslim imam, and a Jewish rabbi.
In this intriguing saga, which spans the first fifty years of the last century, Adam comes of age during the tumultuous end of the Ottoman Empire while attempting to maintain his own precarious sanity.
Ensnared by the havoc created by World War I in Istanbul and World War II in Paris, as well as the turmoil in Jerusalem during the final years of British rule, Adam struggles to make sense of God. This is the story of a man who began searching for God and ended up finding himself. 'A passionate tour-de-force of faith and psyche and a captivatingly transformative journey.' _Deepak Chopra Cover photo: The Hagia Sophia (in Greek it means 'The Holy Wisdom'), located in Istanbul, Turkey, which served originally as an Orthodox Christian cathedral and later as an Islamic mosque, is now a secular museum.
Information
Format:Paperback / softback
Pages:252 pages
Publisher:Rowman & Littlefield
Publication Date:08/05/2007
Category:
ISBN:9780742559752