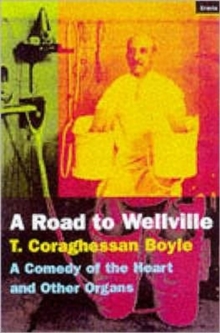 Road to Wellville : A Comedy of the Heart and Other Organs
Paperback
Description
An account of: Dr John Harvey Kellogg, inventor of the cornflake and peanut butter; his profligate, degenerate and opportunistic son; and the birth of America's first health fanatics.
T. Correghessan Boyle is the author of Water Music, Budding Prospects and The Tortilla Curtain.
Information
Format: Paperback
Pages: 496 pages
Publisher: Granta Books
Publication Date: 12/01/1998
ISBN: 9781862071544
Free Home Delivery
on all orders
Pick up orders
from local bookshops
Reviews
Showing 1 - 1 of 1 reviews.
Review by isabelx
16/06/2015
She was even then undergoing one of Dr. Kellogg's newest and - if you believed his self-puffery - most efficacious cures for chlorosis and a host of other conditions, from erysipelas and obesity to ingrown toenails: inhaling radium emanations. Radium, as Will understood it, was some sort of stone that gave off healing rays or vibrations. The Curies has discovered it, along with polonium, and won the 1903 Nobel Prize in Physics in acknowledgment of their achievement in isolating this miraculous substance. Dr. Kellogg had picked right up on it. A stone. A healing stone. It almost sounded pagan.This book is set in Battle Creek, Michigan in 1907 and comprises three entwined stories. Dr. John Harvey Kellogg subjects the wealthy patients at the famed Battle Creek Sanatorium to a strict vegetarian diet and exercise regime, along with a wide variety of treatments, some of which, like poor Ida Muntz's radium therapy, could be doing them more harm than good. Although he is revered by most of his staff and patients Dr. Kellogg has an altogether more difficult relationship with his adopted son George who hates him and everything he stands for.Charles Ossining comes to town intending to set up a breakfast cereal company, only to discover that every man and his dog has had the same idea a. Charles and his business partner, a conman named Bender, join forces with George so that they can use the famous Kellogg name on their new breakfast cereal, while George is only to happy to be involved in a scheme that will embarrass his father. On the train into Battle Creek, Charles meets Will and Eleanor Lightbody, who are planning a long stay at the sanatorium. Will is immediately put on a regime of enemas and a very restricted diet to treat his 'autointoxication' and sort out his terrible stomach problems, and is upset to find out that he and Eleanor are in separate rooms on different floors. Dr. Kellogg is strongly against the debilitating effects of sexual intercourse and prefers to keep married couples apart as much as possible, so they are not even seated together in the dining room. Eleanor, who has stayed at the sanatorium before, is much happier with this arrangement and starts to spend a lot of time with her handsome doctor.An amusing and enjoyable story set at a fascinating time and place in American history.