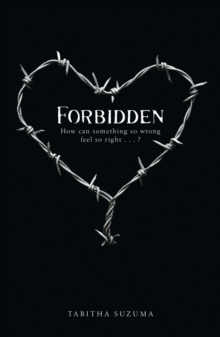 Description
She is pretty and talented - sweet sixteen and never been kissed. He is seventeen; gorgeous and on the brink of a bright future. And now they have fallen in love. But . . . They are brother and sister. Forbidden will take you on an extraordinary emotional journey.
Passionate and shocking, this is a book you will remember long after you have put it down.
Information
Format: Paperback
Pages: 432 pages, None
Publisher: Random House Children's Publishers UK
Publication Date: 15/05/2010
Category: Family
ISBN: 9781862308169
Free Home Delivery
on all orders
Pick up orders
from local bookshops
Reviews
Showing 1 - 5 of 10 reviews.
Previous | Next
Review by ylin.0621
16/06/2015
Lochan has always been the socially awkward—inept—boy whose beauty attracts the girls and whose written prose and intelligence delights the teachers. But Lochan has more than enough to handle than to deal with a love life for his father left for a new family in Australia and his alcoholic mother, who acts more like the child, begins to date again and with 4 siblings to take care of. Definitely more than enough to handle. Yet Maya—beautiful, strong, and gentle Maya—younger than Lochan by 13 months, is there to help him deal with the stress.Lochan and Maya have always been close—best friends since toddler years. It is only recently that the prospect of Maya dating and kissing some other boy does the secret escape and become something they have always suspected: they love each other. More than what a brother and sister should be allowed.But it's an illegal act, disgusting even more so. So they must deny, hide, and escape from these feelings. It must be locked up with the key to be thrown away. A façade must be put in place to shield from the world from these feelings but with the mask in place they become hollow shells of themselves. With love they are vibrant; with denial they are ghost.Brilliantly told in alternating point of views Tabitha Suzuma will have William Shakespeare run for his money in this modern-day adaption of forbidden love. The novel will leave its reader exhausted from the constant heart thumping, panic attacks, and shaky smiles. It is a riveting tale of struggle: against your own emotions, against your family and peers, against the world filled with people who do not know you, but will not hesitate to judge you.The relationship between Maya and Lochan leaps from the pages as they battle what they deemed correct yet separately they still manage to glow intensely that at times it becomes dangerous. They present the dilemma from various view points on this controversial topic with a simplistic counterargument as showcased with the quote from the back cover: 'You've always been my best friend, my soul mate, and now I've falling in love with you too. Why is that such a crime?'I must say I also enjoyed the younger siblings for they provided the needed pause in the emotional rollercoaster to give a minute for me to catch my breath. It is well timed and devised. Though I will say I spotted some writings error, but I'm a bit hesitant to judge them harshly for my unsure differences between the British English and American English. There is also the concern of the ending, well more of the climax, that left me wondering—how did she get in anyhow?—and with concerns of Social Service. The overall ending, however, was shock-worthy enough to make my jaw drop and pause, but I wonder what the world in the novel thinks of Maya and Lochan's relationship.Tabitha Suzuma goes beyond than what I had expected to create such a gripping world in Forbidden. A world to love the finer moments of life that others might take for granted. A world where the dirty secret can grow from the cracked sidewalk, twining onto the barbed wire fence, and blooming into a blood-red daisy. And for that I thank Suzuma and gleefully applaud her for an intense 5 hour read.Warning: Book is not suitable for the younger audience. Does include sex, topics such as incest as well as cuss words.
Review by stephxsu
16/06/2015
Lochan and Maya are brother and sister, but they are much more than that as well. They are parents to their three younger siblings in place of their flighty and immature mother. Lochan has crippling social anxiety and cannot be himself with anyone other than Maya. They are also each other's best friends and soulmates…but then they fall in love.Their love feels to them natural and inevitable, but Lochan and Maya live in fear of others finding out. Will the rest of the world realize how wonderful their relationship is, or will they only think that it is disgusting and forbidden?There has never been a book like FORBIDDEN in YA literature, and I can guarantee that there will never be one like it again. For Tabitha Suzuma has written an unconventional love story so powerful it will suck you under, suffocate you, and force you to rethink all that you thought about love and relationships.Perhaps the most accomplished thing about FORBIDDEN is just how utterly deftly Tabitha Suzuma develops Lochan and Maya's world and relationship. Here we have characters with a wide range of ages and maturity, and each one of them is fully fleshed out, so that we can both love and hate them at the same time. The mother is horrifying un-maternal, but not just in a way that conveniently lets the romance fall into place: her treatment of her children clearly has a great impact on Lochan and Maya's closeness. Each of their siblings have their own personalities and issues, and you can't help but be invested in all of their well-beings. Everything feels just a little bit over the top—and yet, at the same time, nothing does. Lochan tends to always act like he's on the verge of breaking down, which can get a little repetitive, and he and Maya can often act pretty dramatic for an already shocking story premise. Still, despite individual characters' dramatic tendencies, and even the drama associated with the premise and conclusion, FORBIDDEN unfolds in a way that seems inevitable in the best and most natural way. You can't help yourself when you root for Lochan and Maya—and you shouldn't even feel bad for doing so, because if there's any YA couple that has had to go through hell and sky-high obstacles, it's this one.FORBIDDEN is an enthralling read for those who like their contemporary YA deliberate, and can cherish the unconventional romance. It was an incredible read for me, and I hope it is so for you too.
Review by JessicaLouise23
16/06/2015
"He is my soul mate, my fresh air, the reason I look forward to getting up every morning."Maya and Lochan have known each other their entire lives. They've been each others rock, soul mate and best friend. Maya's pretty and kind, sweet sixteen and never been kissed. Lochan is gorgeous, generous and super intelligent and now they've fallen in love. This couple should be destined to be together, except they never can be… because they are brother and sister.When I first found out about this book I wasn't sure whether I wanted to read it or not. I like to think that I'm a pretty open minded person but just the thought of incest turns my stomach and makes me a little queasy but because there's nothing else quiet like this out there at the moment and because of all the rave reviews I decided to put my personal feelings to the side and read this book. Boy am I glad that I did!Before reading this book I like many people thought of incest as a taboo subject, but after reading this it's completely changed my opinion on it. Not all incest is as black and white as it may seem, especially that of the consensual type and this book fills in all of those shades of grey in between. It wasn't until I was half way through reading this that I realised that I didn't find Maya and Lochan's relationship sick or repulsive at all - in fact quiet the opposite! I was desperate for them to be together and find a way to figure everything out and ultimately found their situation sad and unfortunate. Like Lochan and Maya I never saw them as brother and sister but as star crossed lovers who had so much against them. They were two normal, wonderful people who I just wanted the best for and if that was with each other then so be it. Their relationship wasn't all that sexual which just showed that above all they deeply loved each other and just wanted to be able to be a proper couple. All they wanted was to be accepted and to be able to do all the things that a normal boyfriend and girlfriend take for granted. It actually shocked me that Lochan and Maya could go to prison for something they had no control over. You can't choose who you fall in love with and it made me think that if homosexuals are allowed to love each other and transsexuals are allowed to defy the 'norm' because of feelings they cant control then why on earth are not only Lochan and Maya not allowed to be together but face a prison sentence because of it? Why, if under some circumstances and if an incest relationship is consensual and they aren't hurting each other or other people must they be punished for that? Ultimately it's not about if their relationship is wrong or right – that could be debated back and forth forever. It's about why should they be punished so harshly for something they can't control?Maya and Lochan try numerous times to end their relationship but can you imagine trying to get over someone who's been a part of you for your entire life? Who you've loved for as long as you can remember? Who you never get chance to get away from because you live under the same roof? It would take two very strong people to push that aside so it's no wonder that they always ended up back together. Tabitha Suzuma's writing is exquisite and you can definitely feel the love that Lochan and Maya share. I cried so many times whilst reading this book especially towards the end. The ending was perfect- sad – but perfect, I think it ended how it had to end. I'm so glad that I bought another of Tabitha's books along with this one because Forbidden has definitely become one of my favourite books of all time and I can see Tabitha becoming one of my very favourite authors if the rest of her books are even half as good as Forbidden. This isn't an easy read. Far from it, but it's one of those books that demands to be read. It'll change the way you think. It'll have you falling in love with the characters. It will have you weeping with the unfairness of it all. There's not really much more I can say about it other than forget your vampires and humans, jocks and geeks, Forbidden is the ultimate forbidden love story and you'd be crazy to miss out on it. 5 stars.
Review by elliepotten
16/06/2015
Wow. It's hard to know where to begin with this review - or even whether to review it at all. It's always hard when it comes to books like this because the hardest to review are so often the ones that deserve it most, so bear with me and I'll do my best!To begin with, let me say that although this is published by Definitions as a young adult novel, I wouldn't recommend it for teenagers younger than 15 or 16 due to the extreme nature of the themes. Because yes, this is a story about the romance between a brother and sister. Don't stop reading! Because it's also so much more than that...Lochan is seventeen. He suffers from crippling social anxiety at school, and comes home every afternoon ready to take care of his three youngest siblings: wild rebel Kit, 13, mischievous young Tiffin, and sweet Willa, 5. His mother is a neglectful, alcoholic mess who barely bothers to come home any more, and his father moved to Australia with his new wife years ago. His only ray of sunshine in this darkness is his sixteen year-old sister Maya. The two have never really been like brother and sister; they are best friends and, to all extents and purposes, parents to the three children. So when they share an unexpected kiss one night, it's like the final piece of their existence has fallen into place.The first third of the book is mostly about the family, and the way Lochan and Maya are hanging on by a thread. They have to keep up with their school work as well as cooking, cleaning, shopping, playing, supervising homework and bedtimes, and covering for their absent mother so that Social Services won't split them up and place them in care. With Kit now old enough to rebel against his brother's authority, the situation is reaching breaking point and the tension is tangible.Once the kiss happens and changes their lives forever, this tension is only compounded by the added nightmare of falling in love with the wrong person. As their love grows deeper, the sense of dread grows ever more pervasive as they try to balance their feelings against the needs of their family and their gradual realisation of how much trouble they would face if they were ever caught. With this comes an even greater despair as they wonder how they will ever be together. Seriously, Romeo and Juliet had <i>nothing</i> on these two. By alternating between Lochan and Maya's first-person, present-tense narrative, Suzuma gives a real sense of immediacy and urgency, deftly exploring the thought processes and passionate feelings that each is struggling to bear, and placing the reader squarely in the middle of this whirling dervish of emotion. You know that something has to give, that this can never end well, and yet you ache with every fibre of your being for life to finally cut these two young people a break and allow them to live happily ever after. Of course, the sick feeling in the pit of your stomach tells you that it just can't happen that way.I closed the book with tears rolling down my face, feeling like I needed a nap - or at least, a stiff drink. This is a real rollercoaster of a read, and so skilfully written that I felt every bump along the way. Every blissful moment, every small triumph, every second of panic, every long hour of frustration and despair and exhaustion, is so beautifully evoked that I found I couldn't read the book for too long at a time without stopping and removing myself from it for a while, giving myself a break from all that turmoil!I could go on - about the internal morality battle for both the characters and the reader, about the questions it raises about the legal implications of consensual incest (though it never feels like what happens in the novel should be labelled so harshly), about the harrowing depiction of teenagers having to step up and take responsibility for a whole family - but I won't. I'll just say that this is a complex novel about two deeply sympathetic characters in a difficult situation, which will provoke a lot of thought and reflection, skew your world perception a little, and stir up every emotion you can imagine until you tumble out the other end, exhausted. Open your mind, take a deep breath - and read it.
Review by nicola26
16/06/2015
4.5 stars.<br/><br/>Uncomfortable to read? Yup. But it's supposed to be. Suzuma is one hell of a writer, that's for sure. <br/>