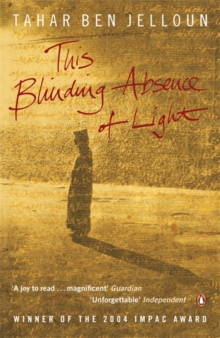 This Blinding Absence of Light
Paperback
Description
In this extraordinary non-fiction novel, based on a true story, Tahar Ben Jelloun traces the experiences of Salim who, in 1971, took part in a failed coup attempt to oust King Hassan II of Morocco.
With sixty others Salim was incarcerated in a secret prison complex in the Moroccan desert: he was to remain there for nearly twenty years.
In starkly eloquent, beautiful prose, Ben Jelloun relates the prisoners' experiences as they struggle to survive.
The son of a witty, feckless courtier who disowns him, Salim tells stories to keep sane - from the suras of his beloved Koran to the plot of A Streetcar Named Desire.
Even in the darkest, most terrible conditions, sympathy, insight, the human quest for meaning and understanding, never desert Salim.
The resulting novel is a wrenching yet exquisite celebration of the human spirit and its determination to survive. 'A masterpiece' Judges of the IMPAC award 'a sad and splendid book' New York Times Book Review
Information
Format: Paperback
Pages: 208 pages
Publisher: Penguin Books Ltd
Publication Date: 01/09/2005
ISBN: 9780141022826
Free Home Delivery
on all orders
Pick up orders
from local bookshops
Reviews
Showing 1 - 2 of 2 reviews.
Review by charbutton
16/06/2015
The story of Salim's 18 year imprisonment in a pitch black cell in a Moroccan desert prison after his involvement in an attempted coup d'etat in 1971, based on a man's real-life experience, this should be a depressing read. Yet it isn't. It's a story of survival, faith and family as well as a tale of inhumanity and death. Jelloun uses a sparse yet effective style that effectively conveys the complexities and ambiguities of Salim's character. I found this sparseness difficult to get into for the first few pages but after that felt entirely drawn into the story. So much so that I started and finished it today.
Review by akeela
16/06/2015
This Blinding Absence of Light by Tahar Ben Jelloun. Translated by Linda Coverdale. This book is based on real events.The protagonist is one of 58 prisoners who were taken captive in the king's palace after a failed coup to oust King Hassan II of Morocco, in 1971. After two years in a conventional prison, they were transferred to Tazmamart Prison, where these men would be held individually in subterranean dungeons under the most alarmingly barbaric conditions. They were deprived of food and water – except enough to keep them barely alive – of company, of physical space, and of everything else, including light, hence the striking title of the novel.The narrator, Salim, is one of the incarcerated men who tells of the 18 years he spent in this cell, and how he and some of the men managed to stay alive, sometimes just barely. The majority of them died because of a lack of strength to withstand the terrible deprivation. The contents of the book are bleak, but on the flip side, it shows the amazing reserves of human willpower. The well-read narrator draws on his inner strength to keep going, and exercises his mind by telling stories to his fellow inmates ranging from scenes from <i>A Streetcar Named Desire</i> to Albert Camus' <i>The Stranger</i>. They would teach each other language skills, and recite verses from the Koran. Sometimes a little bird would visit the cell and bring the inmates an inordinate amount of joy, with their movements and their song. Throughout this ordeal Salim refuses to think about his life before prison, and this takes considerable restraint. "To remember was to die ... How were we to know that, in that place, homesickness was fatal? We were in our graves, banished forever from our lives and all remembrance. Perhaps the walls weren't thick enough, in spite of the ramparts all round, nothing could keep memory from seeping in." As he perseveres, he develops a strong sense of spirituality, which pulls him through the most difficult and trying times. I was completely moved by this book. It made me grateful for the little things in life that I take for granted. To quote from the book: "Ah! The smell of toast and coffee in the morning. Ah! The softness of warm sheets and a woman's hair as she gets dressed again ... Ah! The shouts of children on a playground, the ballet of sparrows in a limpid sky, as the afternoon draws to an end! Oh, how lovely and how terrible are the simple things in life when they are gone, set forever out of reach..."An important, compelling and highly recommended book.