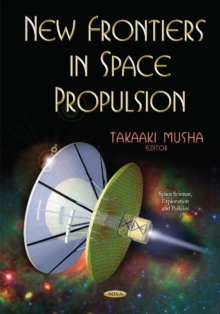 New Frontiers in Space Propulsion
Hardback
Description
As we know, reaching the outer rim of the solar system in a relatively short period of time is impossible utilizing existing rocket technology.
Radically ventured theories such as quantum vacuum propulsion must emerge if we have any desire to truly explore the far reaches of space.
New concepts must be explored that may someday enable manned interplanetary and interstellar travel.
With this in mind, it is imperative for scientists to study and create new forms of space trajectory to achieve this goal.
New propulsion physics for such means may or may not be discovered in the future.
In this book, the science behind ideal methods of space propulsion (such as warp drive and gravity-control) are examined to show connections between known facts, anomalies and visions concerning this study.
This term is known as "frontier physics"; scientists presently use accepted physical paradigms to speculate and hypothesize forms of physics that will aid in future developments.
In this case, that development is advanced methods of space propulsion.
Throughout this book, eminent researches discuss an overview of new propulsion systems which cannot be achieved by the conventional propulsion systems.
Some methods that surpass modern study which would aid in the development of advanced space propulsion includes zero-point energy, quantum electrodynamics, space-time curvature and faster-than-light warp drive travel.
It is hoped that these topics will assist readers in their journey to understand progressive studies of space propulsion systems.
Information
Format: Hardback
Pages: 306 pages
Publisher: Nova Science Publishers Inc
Publication Date: 01/09/2015
Category: Astronautics
ISBN: 9781634828352
Free Home Delivery
on all orders
Pick up orders
from local bookshops
Also by Takaaki Musha