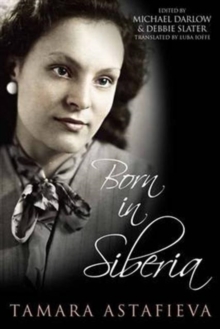 Born in Siberia
Paperback / softback
Description
In 1966 and 1968 Michael Darlow worked in Russia on two major television co-productions between the British ITV company, Granada, and the main Soviet press and information agency, APN Novosti.
There he met Tamara Astafieva, a senior editor in Novosti's television department, assigned by the agency to be his researcher in Russia.
During his frequent visits to Russia he got to know Tamara well, met her young son and her husband and learned a little about her life.
Then, Tamara fell out of favour with her Russian bosses and another woman, a stern-faced party apparatchik, was assigned to take on her role.
After one final, short meeting Darlow did not see Tamara again. Almost forty years later, after the fall of the Soviet regime, out of the blue he received a letter from Tamara.
It enclosed a book of poems she had written and three impressionistic essays, describing important events in her life and the lives of members of her family.
A correspondence began and, over time, a deeply personal and moving picture started to emerge of the life of one typical, but also exceptional, Russian woman and her family from shortly after the 1917 Bolshevik Revolution until the present day. The letters have formed the basis for this unusual memoir.
Tamara's life and that of her family is a distillation, an archetype, for the lives and experiences of millions of other ordinary Russians across the decades since 1917. Tamara Astafieva's extraordinary story, which reads, at times, like one of the traditional fables from the beautiful but fearsome land in which she was born, is also the story of millions of other ordinary Russians and their families during this last, most troubled century in her vast country's long and turbulent history.
Information
Format: Paperback / softback
Pages: illustrations
Publisher: Quartet Books
Publication Date: 31/01/2014
Category: Memoirs
ISBN: 9780704373341
Free Home Delivery
on all orders
Pick up orders
from local bookshops