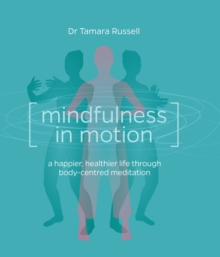 Mindfulness in Motion : Healthier Life Through Body-Centred Meditation
Paperback
Description
Discover a life of ease and joy through movement-based mindfulness Mindfulness in Motion presents the Body in Mind Training programme: a truly groundbreaking new approach to mindfulness that is practised not by sitting still but by engaging with the moving body.
Written by neuroscientist and mindfulness expert Dr Tamara Russell, this is the only book on mindfulness to explain exactly why moving meditation is the best way of 'rewiring' the brain, teaching it to focus on the present moment.
Her simple exercises are designed to be accessible to everyone, including those who can't seem to find time for practice, and those who have struggled with traditional Zen-inspired mindfulness, with its emphasis on sitting meditation.
This book will guide you step by step through Dr Tamara Russell's Body in Mind Training (BMT) programme, a unique approach to secular mindfulness that uses the moving body as the main meditation tool.
The message is simple: getting out of your head and into your body is the key to a happier, healthier life. Chapter by chapter the book explores the five principles of movement-based mindfulness: PAUSE In order to hear your body you have to slow down and listen to its voice - this is the starting point for BMT mindfulness practice.
INTENTION Setting your intention before you act can dramatically increase your ability to achieve what you want in life. ATTENTION You can detect the mind-wandering habits that hold you back and use your attention to create more space for the things that really matter. UNDERSTANDING ME It's possible to tame your unruly 'mental monkeys' and create new neural pathways in your brain to help you to realize your full potential. COMPASSION Facing and accepting your own difficult experiences can profoundly transform your relationship with life. With easy-to-follow exercises, step-by-step photographs, clear brain diagrams and a host of practical tips, this book offers all the tools you need to start living in your body.
With a little focus, determination and practice, you too can experience the amazing benefits of mindfulness!
Information
Format: Paperback
Pages: 144 pages, illustrations
Publisher: Watkins Media
Publication Date: 15/09/2015
Category: Exercise & workout books
ISBN: 9781780285818
Free Home Delivery
on all orders
Pick up orders
from local bookshops
Reviews
Showing 1 - 1 of 1 reviews.
Review by CathyGeha
27/08/2015
Scientific exploration of why meditation while moving might work better for people living in the West is presented in this book. While many consider sitting quietly to calm the mind the best form, or the only form, of meditation this book gives alternate options to become more in tune with mind and body. There is scientific and practical information in this book as well as exercises to guide readers. I am definitely going to be using some of the exercises in the future and look forward to seeing what impact they will have on me when I become more proficient. The exercise at the end hit home…compassion and loving kindness are so important and the exercise gave me quite a bit to think about and process. An aside, my husband has been very active in presenting "Emotional Intelligence and Brain Science" in training seminars. His hope is that what he shares will improve not only people but society. This book may provide some new ideas for him to include in the future so I plan to purchase it for him once it is released. Thank you to NetGalley and Watkins for the copy of this book to read and review.