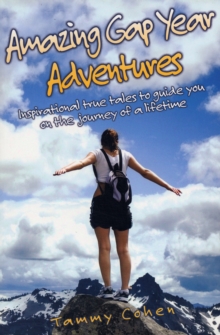 Amazing Gap Year Adventures
Paperback / softback
Description
This year approximately 200,000 people between 18 and 25 will head off for what they hope will be the adventure of a lifetime.
For anxious parents, left at home nursing an empty nest (and even emptier wallet), a gap year can appear more like a nightmare than a dream.
No wonder some enroll their sons and daughters on safety courses run by the likes of the SAS!
But for every horror story of illness, theft or assault, there are hundreds more tales of enriching experiences, breathtaking adventure, character-forming challenges, exotic encounters and, for some, even romance.
This informative and inspirational guide charts the highs and lows of independent travel and will help everyone make the most of a year out - parents and gappers alike. Besides stories of bungee-jumping and swimming with sharks, teaching children English in Africa, tending baby jaguars in Bolivia and studying film in New York, author and journalist Tammy Cohen has selected some remarkable accounts of gappers who've helped save communities, single-handedly rebuilt the hospital which cured their malaria and transformed the lives of their own parents by introducing them to the third-world village which has more or less adopted them.
Then there are the travellers who've survived kidnapping, pirate attacks and acts of God to return with a fresh outlook on life.
With incredible stories of love, marriage and incredible friendships formed under the most challenging of circumstances, "Gap Year Adventures" is the gripping, no-holds-barred book that tells it like it is - don't leave home without it!
Information
Format: Paperback / softback
Pages: 288 pages
Publisher: John Blake Publishing Ltd
Publication Date: 28/02/2007
Category: True stories
ISBN: 9781844543458