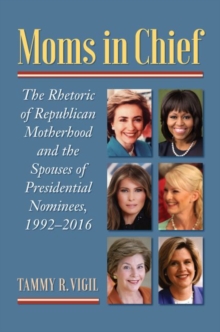 Moms in Chief : The Rhetoric of Republican Motherhood and the Spouses of Presidential Nominees, 1992-2016
Hardback
Description
In 1776, when Abigail Adams implored her husband to "Remember the Ladies," John Adams scoffed, declaring, "We know better than to repeal our masculine system." More than two hundred years later, American women continue to struggle against the idea that they are simply vassal extensions of their husbands-a notion that is acutely enacted in presidential campaigns.
An examination of how the spouses of recent presidential candidates have presented themselves and been perceived on the campaign trail, Moms in Chief reveals the ways in which the age-old rhetoric of republican motherhood maintains its hold on the public portrayal of womanhood in American politics and constrains American women's status as empowered, autonomous citizens. The rhetoric of republican motherhood describes the ostensibly ideal female patriot as domestically focused, self-sacrificial, deferential, and defined by her relationship to others, particularly her husband.
Moms in Chief combines the study of history, gender, communication, and politics to show how the spouses of the major parties' presidential nominees from 1992 to 2016 at times fulfilled, at other times flouted, but at all times were handicapped by this stereotype.
From Barbara Bush as dynastic mother to Michelle Obama as "Mom-in-Chief," from Laura Bush as all-American wife to Melania Trump as model immigrant, from Teresa Heinz Kerry as assertive heiress to Bill Clinton as past president and prospective first gentleman, Tammy R.
Vigil explores the function of presidential consorts in their spouses' campaigns, and she scrutinizes how their portrayal by opponents, the press, and themselves has challenged or reinforced perceptions of the role of gender, and the place of women, in American political life. In the unofficial contest between candidates' spouses, there are winners and losers.
What is at stake, Vigil's research suggests, is the very definition of women as American citizens and political actors.
Information
Format: Hardback
Pages: 272 pages
Publisher: University Press of Kansas
Publication Date: 30/03/2019
Category: Gender studies: women
ISBN: 9780700627486
Also by Tammy R. Vigil