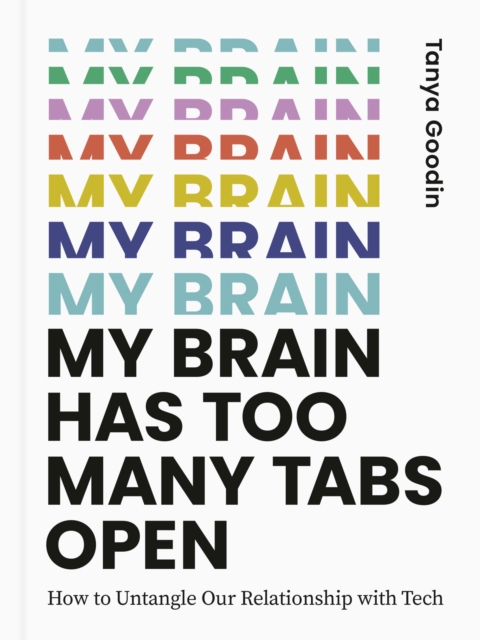 My Brain Has Too Many Tabs Open : How to Untangle Our Relationship with Tech
Hardback
Description
Digital detox expert Tanya Goodin presents a compendium of confessions, dilemmas and solutions that helps you untangle your relationship with your phone and technology for a better, happier you. Digital technology is more ingrained in our daily lives than ever before, and so we need to be more aware of its risks.
In this un-putdownable self help toolkit, Tanya Goodin explores the cost that our digital life inflicts on our offline existence, and the things we can and should do to protect our mental health, our family and our relationships in the face of this new digital reality. Whether you are dealing with a partner who is mindlessly scrolling rather than listening to you (phubbing), flooding social media with your child's image (sharenting), or panicking whenever you misplace your phone (nomophobia), learn how to recognise and label harmful habits- both of yourself and others - and find actionable answers in this book. The collision of our online and offline worlds has left us more dependent on technology than ever before, and even more desperate to log off.
My Brain Has Too Many Tabs Open is your key to finding digital balance and addressing strange new social norms. Among the tech-versus-life scenarios included are: Doomscrolling - endlessly consuming doom-and-gloom news, a habit perpetuated by attention-seeking algorithms that triggers anxiety and depression; Comparison Culture - 52% of teens feel less confident because of feeling inadequate when comparing their social media profiles with other people's; Vampire Shoppers - dead-of-night, sleepless shoppers who spend a third more than daytime shoppers, and range from nocturnal gamers to exhausted parents; Digital Legacies - before the end of the century there could be 4.9 billion deceased internet users, yet only 7% of us want our online profiles maintained after death; Cyberchondria - Dr Google is causing a wave of misdiagnoses from anxious searchers, with 25% of British women buying false miracle cures as a next step; Clicktivism - also known as slacktivism, is virtue signalling through performative alignment with online causes, but can it ever amount to meaningful change? Complete with client confessions and eye-opening research, diagnostic guides to tell-tale signs and a manifesto for improved digital citizenship, this habit-improving bible offers the conversation-starting vocabulary we so desperately need to understand and untangle our relationship with technology for a more humane world.
Information
Format:Hardback
Pages:224 pages, 50 Colour Illustrations
Publisher:Quarto Publishing PLC
Publication Date:21/09/2021
Category:
ISBN:9780711264274
Information
Format:Hardback
Pages:224 pages, 50 Colour Illustrations
Publisher:Quarto Publishing PLC
Publication Date:21/09/2021
Category:
ISBN:9780711264274