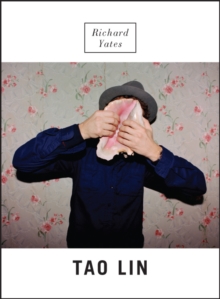 Information
Format: Paperback
Pages: 256 pages
Publisher: Melville House Publishing
Publication Date: 07/09/2010
ISBN: 9781935554158
Free Home Delivery
on all orders
Pick up orders
from local bookshops
Reviews
Showing 1 - 5 of 6 reviews.
Previous | Next
Review by irunfrombears
16/06/2015
Richard Yates by Tao Lin is about 22 year old Haley Joel Osment, a writer and graduate of New York University, and his 16 year old girlfriend Dakota Fanning. Haley Joel Osment lives in Manhattan and meets Dakota fanning on the internet. After hours of gmail chat conversations, emails, and phone conversations Haley travels to New Jersey. They keep their relationship a secret from Dakota's mother for months. Richard Yates follows Haley and Dakota as they hide the relationship, travelling back and forth from New York City to New Jersey, to Florida and back. Haley eventually ends up moving to the rural New Jersey town that Dakota is from. The relationship between Haley and Dakota becomes more rocky and strained as the story progresses and as they experience things within the relationship that neither have dealt with before. With the increasing strain on their relationship, Dakota develops an eating disorder, becomes a pathological liar, and Haley becomes uninterested and confused about the relationship and what he wants.Lin's novel has already sparked intense conversation among critics and reviewers. Richard Yates brings up serious questions about a generation that lacks rules and structure, the noticeable difference between younger generations and older, the straight-forward, somewhat banal, writing of a young author, what happens with a culture obsessed with technology, and many more. Lin's writing style is flat — short sentences detailing what each character is thinking and doing as the story progresses. There are no metaphors, no figurative language, no long, drawn out descriptions. This style of writing isn't for everyone and can hinder reader from getting involved in the story. His writing brings up questions about language — how younger generations are using it and developing their own — and how this will effect the language writers use. It was pointed out in book club discussion that Lin's writing is being copied by a lot of writers in the 24-and-under crowd. This so called "net-language" is no longer limited to appearing on your Facebook Newsfeed and your Instant Message chats. Is a generation that grew up with the internet, with cell phones, text messages, email, and instant message watering down language? Studies have concluded that students' writing is either getting better or getting worse. I can only say that, from experience, one of those studies is bullshit (the former). Other studies point to an increase in creativity. This brings up another point: is this the future of writing? Despite Lin's writing style, and if you can look past it, Richard Yates is actually a deeply engaging story about how people interact and how our technology can either hinder our emotions or enable them. Why the title Richard Yates? Why name a book after a somewhat famous author? Revolutionary Road and The Easter Parade are considered Yates' best novels. Yates didn't necessarily critique his generation but told it as it as — "we are what we are" — in a very realistic sense. Tao Lin said that he was influenced by The Easter Parade while writing "Richard Yates." Both novels are dry but I think that, as boring as the writing is, it is why Yates was so popular when these were published. You can get a sense of the value of it only after the fact. This is how I feel about Richard Yates, not that it is boring but that you have to get to the end to fully appreciate the whole story.Even if this sounds like something you wouldn't be interested in, this is something that needs to be read for all the reasons I mentioned above and more.
Review by librarianbryan
16/06/2015
No, this is not a novel by Richard Yates, but a novel titled Richard Yates. Trickery continues on the first page when discover the two central characters are named "Haley Joel Osment" and "Dakota Fanning." "Haley" is a hipster novelist who starts a relationship with the underage "Dakota." Their infatuation is going great until it has a collision in the Whole Foods parking lot with "Dakota's" high-strung mother. What I first thought would be 200 pages of the deep black satire slowly segues into a chamber piece about shoplifting, bulimia, co-dependency, and suicide. Suburban angst is decidedly not my thing, but there are some hilariously moments between the two most dislikable characters I have ever read this side of, uh, Richard Yates. Lin's mantra-like use of "Haley Joel Osment" and "Dakota Fanning" over and over entrances you while the humanity of the story slips underneath the formalist surface. Not for everyone, but subversive enough to part the oil slick that is contemporary fiction.The cover is great.
Review by StacyIsLiterate
16/06/2015
At first I wasn't sure what to make of Tao Lin. The almost child like simplicity of his sentence structure, his purposeful repetition of exactly the same wording in one sentence immediately after another, and his omission of most sensory details left me sort of... baffled. I thought a lot about it and often when the book wasn't even in my hands. Who was this guy? How on purpose is his style? Is the story about him? Is it just playing dress up with a well known name? And whats the deal with those anyway?Now having finished the book, and despite having very few to none of the above questions answered, I've been pleasantly surprised with the experience of reading this novel. The simplicity of it is deceptive, the sparse prose bringing a bit of rambling to my own inner monologue. I am now very of the opinion that Mr. Lin knows exactly what he's doing, and he does it very well.
Review by aliceunderskies
16/06/2015
Tao Lin's style of writing--concrete, repetitive, reporting surface actions and objections only, usually of the most banal sort--disagrees with me violently. I love <i>lush</i> writing, replete with meaning, and this is anything but. If it were simply a matter of aesthetic differences I wouldn't give such a low rating--to each their own, right?--but I also happened to violently dislike the story: 22-year-old "Haley Joel Osment" is a shoplifting, self-destructive degenerate who falls into a mutually destructive relationship with fellow lost soul, underaged "Dakota Fanning," a relationship that sordidly drifts from unhealthy to abusive. All told as soullessly as possible through email, Gchat, and dry recounting of their encounters, each less distinguishable from the last. <br/><br/>Maybe it made me feel so terrible because its contents and plot and its commentaries are all about things that I generally feel pretty bad about on a daily basis without external reminder--the difficulty of creating and sustaining meaningful relationships, the way technology can hinder connection, the awful easy aimlessness of modern life--but I disliked the way it was presented so totally that, even recognizing that I agree with ideas that Lin may or may not be attempting to tackle (I err on "not" after reading a few flippant &amp; shallow review comments about the book), I can't summon a shred of good feeling for the book.
Review by Alyssa.Jocson
16/06/2015
Not sure what to say here. Even though I was amused by reading dialogue between two characters named Haley Joel Osment and Dakota Fanning and even though I found some nuggets of truth about living with depression, I felt unsatisfied with the book by its end. I'm very intrigued by Tao Lin's writing style, though. I'm still willing to check out his other stuff; if anyone has any suggestions, let me know.
Also by Tao Lin