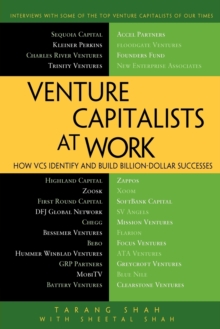 Venture Capitalists at Work : How VCs Identify and Build Billion-Dollar Successes
Paperback / softback
Description
"This is probably the single most valuable resource for the entrepreneurs aspiring to build successful companies"-Ron Conway, Special Adviser, SV Angel, and investor in Facebook, Google, Twitter, Foursquare, PayPal, Zappos "I highly recommend Venture Capitalists at Work.
This book captures the personalities and approaches of a number of leading VC practitioners and displays the heart and soul of the venture capital process, by offering an exclusive window into the voice of the practitioners."-Gus Tai, Trinity Ventures "Venture Capitalists at Work is a foundational pillar in an entrepreneur's understanding and resources.
This is a first in terms of the level of detail, quality of discussion, and value to the entrepreneur."-George Zachary, Charles River Ventures and Investor in Twitter Venture Capitalists at Work: How VCs Identify and Build Billion-Dollar Successes offers unparalleled insights into the funding and management of companies like YouTube, Zappos, Twitter, Starent, Facebook, and Groupon.
The venture capitalists profiled-among the best in the business-also reveal how they identify promising markets, products, and entrepreneurs. Author Tarang Shah, a venture capital professional himself, interviews rising VC stars, Internet and software investment pioneers, and venture investment thought leaders.
You'll learn firsthand what criteria venture capitalists use to make investments, how they structure deals, the many ways they help the companies they fund, avoidable mistakes they see all too often, the role of luck in a success, and why so many startups fail. Venture Capitalists at Work also contains interviews with those on the receiving end of venture money-entrepreneurs in high-profile startups that went on to achieve great success.
Whether you're an entrepreneur, an aspiring VC, an M&A professional, or an ambitious student, the knowledge you will gain from Venture Capitalists at Work could provide a significant shortcut to success. Other books in the Apress At Work Series: Coders at Work, Seibel, 978-1-4302-1948-4 CIOs at Work, Yourdon, 978-1-4302-3554-5 CTOs at Work, Donaldson, Seigel, & Donaldson, 978-1-4302-3593-4 Founders at Work, Livingston, 978-1-4302-1078-8 European Founders at Work, Santos, 978-1-4302-3906-2 Women Leaders at Work, Ghaffari, 978-1-4302-3729-7 Advertisers at Work, Tuten, 978-1-4302-3828-7 Gamers at Work, Ramsay. 978-1-4302-3351-0
Information
Format: Paperback / softback
Pages: 500 pages, 500 p.
Publisher: Springer-Verlag Berlin and Heidelberg GmbH & Co. K
Publication Date: 17/11/2011
Category: Business strategy
ISBN: 9781430238379
Free Home Delivery
on all orders
Pick up orders
from local bookshops