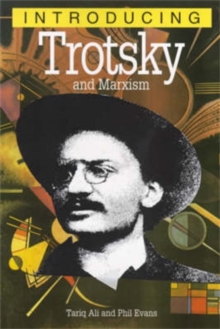 Introducing Trotsky and Marxism
Paperback
Description
Together with Lenin, Leon Trotsky was one of the architects of the Russian Revolution.
A great orator, a skilful military tactician, a gifted historian and an unpredictable cultural theorist, Trotsky was brought down by inner-party factionalism, exiled and then executed by Stalin.
This book shows how Trotsky's prophetic insights foresaw the rise of Hitler and the price humanity would have to pay.
Even before the Second World War he predicted the Holocaust.
He also foresaw the events in eastern Europe following the collapse of the Communist bloc, predicting in 1936 that the Stalinist system in Russia was merely a transitional state which would either move towards socialism or revert to capitalism.
Tariq Ali and Phil Evans give us an irreverent but sympathetic look at the enigma of Trotsky, in a timely reminder of a major figure of 20th century politics.
Information
Format: Paperback
Pages: 176 pages, Illustrations, unspecified
Publisher: Icon Books Ltd
Publication Date: 01/07/2000
Category: Marxism & Communism
ISBN: 9781840461558
Free Home Delivery
on all orders
Pick up orders
from local bookshops
Reviews
Showing 1 - 1 of 1 reviews.
Review by daschaich
16/06/2015
A Brief and Amusing Biography of Trotsky: I am familiar with Tariq Ali from his work with the New Left Review, so when I saw his name on the spine of this slim volume in a bookstore, I picked it up and took a look. Well, actually, I read the whole thing right there - it's a quick read, only ~170 pages long with most pages dominated by illustrations. While reading I was surprised by the amount of information that Ali was able to convey in such a short volume, and how he was able to boil down some complex issues (such as the Treaty of Brest-Litovsk) and summarize them with only a few lines of text."Introducing Trotsky and Marxism" is basically a short (and sympathetic) biography of Lev Davidovich "Trotsky" Bronstein, a major figure in the Russian Revolution and the leader of the Communist opposition to Stalin after Lenin's death. In an effort to make this a simple introduction, Ali focuses mainly on Trotsky's actions, without spending much time considering his beliefs or philosophy. Marxism is addressed mainly in its relation to Trotsky's "Theory of Permanent Revolution," which deviated from Marxist dogma by claiming that a Socialist revolution could occur in Russia before that country developed democratic organs and went through its Bourgeois/Capitalist "stage of development." This Theory of Permanent Revolution is one of the only theoretical issues addressed by Ali, and his discussion of it is one of the book's weaker sections.Like the rest of the "Introducing..." series, this book has illustrations on nearly every page, a mix of old photographs and cartoons drawn by Phil Evans. The text is often interwoven with these illustrations, so that they actually add some substance to the book. They make "Introducing Trotsky and Marxism" a quick and easy read - and an amusing one too. Many of the cartoons are tongue-in-cheek, such as one that reproduces "The Last Supper" with characters from the Central Committee of the Bolshevik Party. At the end of the book is a useful glossary of the people and organizations that play a role in Trotsky's life and the Russian Revolution.Of course, with all these illustrations this book is incredibly short and over-simplified, and can only give a superficial account of Trotsky's life and his influence on the world. Don't expect too much from it; it is appropriate for middle school and high school students, or those who only have an hour or so to learn about Trotsky. Readers who want a more thorough treatment should look at Isaac Deutscher's three-volume biography of Trotsky ("The Prophet"), Orlando Figes's history of the Russian Revolution ("A People's Tragedy"), or (naturally) the works of Trotsky himself ("The Revolution Betrayed" being the most famous).
Also in the Introducing... series | View all