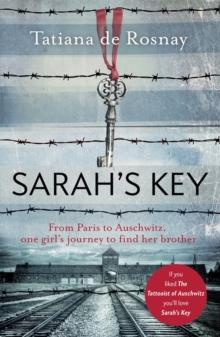 Description
Released in 2010 as a major motion picture starring Kristin Scott Thomas. Paris, July 1942: Sarah, a ten year-old Jewish girl, is arrested by the French police in the middle of the night, along with her mother and father.
Desperate to protect her younger brother, she locks him in a cupboard and promises to come back for him as soon as she can.
Paris, May 2002: Julia Jarmond, an American journalist, is asked to write about the 60th anniversary of the Vel' d'Hiv'--the infamous day in 1942 when French police rounded up thousands of Jewish men, women and children, in order to send them to concentration camps.
Sarah's Key is the poignant story of two families, forever linked and haunted by one of the darkest days in France's past.
In this emotionally intense, page-turning novel, Tatiana de Rosnay reveals the guilt brought on by long-buried secrets and the damage that the truth can inflict when they finally come unravelled.
Information
Format: Paperback
Pages: 304 pages
Publisher: Hodder & Stoughton General Division
Publication Date: 07/02/2008
ISBN: 9780719524523
Free Home Delivery
on all orders
Pick up orders
from local bookshops
Reviews
Showing 1 - 5 of 6 reviews.
Previous | Next
Review by RidgewayGirl
16/06/2015
"Sarah's Key" consists of two parallel stories, the contemporary story of Julia, a journalist researching the events surrounding a roundup in Paris by the French authorities of Jewish families in 1942 and the story of a young girl, the titular Sarah, caught up in the nightmare. The novel jumps back and forth rapidly between the two stories in a way that makes Julia's personal problems seem insubstantial and petty. It's difficult to sympathize with her marital woes when they are interspersed with the struggle of a ten-year-old to survive the destruction of her family and life in occupied France. The key in question opens a small hidden cupboard in which Sarah has hidden her younger brother, expecting to be back in a few hours. The suspense surrounding her brother's fate is settled halfway through the book and is particularly well handled. Julia is a fascinating character and it is unfortunate that she is so overshadowed by Sarah. The death of a relationship, the expatriate experience and the concept of "home" as well as the way we become emotionally bound to a baby while it is still a small bundle of cells are all themes Julia's story takes us through. Her French family's reaction to her research is varied and nuanced.There aren't enough books translated into english, so one that will receive attention is something to celebrate. Unfortunately, the translation here lacked a graceful understanding of linguistic nuance. Every so often I was wrenched from the story by a sentence or phrasing that seemed taken directly from the french. This book deserved better than that; the editors should have urged de Rosnay not to undertake the translation herself.
Review by hscherry
16/06/2015
I thoroughly loved this book. An emotional story based on the true horrors of the second world war in France. The story completely gripped me. Heartbreaking yet fabulous and an interesting insight into a little known part of the holocaust.
Review by mthelibrarian
16/06/2015
Though the book wrapped up perhaps too succinctly, it is a beautiful historic fiction about a horrific part of French World War II history in which French police rounded up Jews in Paris and shipped them outside the city, where most of them were eventually shipped to Auschwitz and killed. It brought tears to my eyes at various points. I could not put it down.
Review by Vaysh
16/06/2015
This is one of those books that you wish had been written by another author. The subject matter is important and interesting and sheds light on a horrifying period in human history, but the novel simply doesn't do it justice. The writing is amateurish* and clichéd, the characters one-dimensional to the point of charicature and the author's choice of mixing up truly tragic past events with some present melodrama-rama makes the novel feel shallow and vaguely exploitative. *The worst part had to be the last chapter where the author insisted on having the first-person narrator refer to her own baby as "the child" throughout the entire chapter, presumably so that there could be a big "reveal" about her name being Sarah at the end. Except it was so clumsily done that anyone with half a brain cell could figure it out after the first sentence and so the whole thing just looked daft.
Review by Marlene-NL
16/06/2015
I really enjoyed reading this. At first I did not like the constant changing of character who was telling the story, the jumping in time but after a while i got used to it. The story it self was so powerful. I understand why this book was a bestseller.