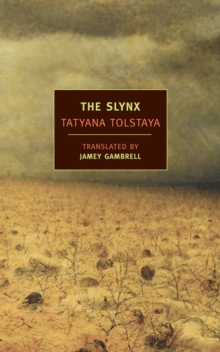 Information
Format: Paperback
Pages: 304 pages
Publisher: The New York Review of Books, Inc
Publication Date: 17/04/2007
ISBN: 9781590171967
Free Home Delivery
on all orders
Pick up orders
from local bookshops
Reviews
Showing 1 - 5 of 12 reviews.
Previous | Next
Review by janeajones
16/06/2015
I've been procrastinating for days trying to sort my thoughts out about this post-apocalyptic novel which I found brilliant and disturbing, but didn't really like. It called to mind both Russell Hoban's <i>Riddley Walker</i> and Gogol's <i>Dead Souls</i> -- in ways that I can't explicitly express since it's been years since I read either.I was drawn in by the beginning of the book which had a folk-tale-feel to it, and I rather sympathized with the protagonist, Benedikt, a transcriber of old books in the feudalistic society that has emerged 200 years after "the Blast." In many ways the feudalism mirrors that of both czarist and communist Russia although the class divisions are a bit more grotesque. The Golubchiks, commoners and peasants, work at jobs assigned to them; most exhibit Consequences -- physical mutations caused by radioactivity from the Blast. Their currency and the mainstay of their diet are mice. Oldeners are survivors of the Blast, who though not immortal, never grow old beyond the age they were at the time of the Blast; Murzas are the feudal lords who never walk anywhere, but drive around in sleighs pulled by Degenerators, humans who travel on all four limbs. Then there are the dreaded Sanitaurions whose vision can pierce the darkness and who seek and round up those who suffer from Illness. The first half of the book is taken up with Benedikt's hard-scrabble existence, his friendships, and his work at which he is delighted by many of the stories and poems which he is transcribing. The illustrator of the workshop, Olenka, the pampered daughter of a Sanitaurion who is brought to work in a sleigh, is the subject of Benedikt's romantic dreams. Fortuitously, or so it seems, she is attracted to Benedikt and they are married.Benedikt's Father-in-Law introduces him to the arcane thought of the government and to his extensive library of oldener books -- and degeneration ensues.While I found the book humorous, literate and exuberant, The Slynx is finally deeply pessimistic and misanthropic.
Review by Isgodchekhov
16/06/2015
Benedikt coughed politely to interrupt."My life is spiritual""In what sense""I don't eat mice"Having worshipped at the alter of some classic black-humor-slash-absurdist fiction back in the day, I was grinning like I was getting away with something most of time reading Tatyana Tolstaya's first novel, The Slynx. Little did I suspect when I first dipped into this contemporary Russian writer's book that at times it would shake out fond memories of Vonnegut, Robbins, and Harris. Though associating their wordplay, sheer inventiveness and bludgeoning irony, these guys played in a much shallower end of the pool than Leo Tolstoy's great grand niece….This novel was an on again, off again 14 year project, started when she lived in the USA and taught at Princeton during the glasnost and perestroika years, and finished in 2000. Though I openly admit to being unread in utopian/dystopian fiction (not even 1984 oh snap), it seems as a given that books belonging to that genre are approached as line item allegories (This_______stands for That________) .. After finishing the last page ofThe Slynx, I searched for and read three online book reviews for the novel (something I normally don't do) and found substantially three different interpretations of what the various "this =" in the book….my grin broadened further. Mouse Meat.The narrative is all Free Indirect (basically 1st person point of view that is made to sound like third person) from the protagonist, Benedict. Our 30something hero is a delightfully engaging pragmatic simpleton. In the two centuries after "The Blast" the inhabitant's staple and currency is mice, which are eaten, made apparel and candles out of, and strings of them are the coin of the realm. Benedikt is a scribe, a copier of decrees ostensibly penned by the Ruler, Fyodor Kuzmich, Glorybe. Similar to Clockwork Orange there is a bastardized vocabulary that the Golubchik's (comrades) use to describe everyday items. Most all Golubchiks have various mutations from radiation, called "Consequences". There exists a small sub group, or class of those that have survived the Blast, called 'Oldeners' who mysteriously do not age, but have avoided the mutations, and are outsiders, dissidents of the post-apocalyptic society. In the remnants of culture the existence of books are just rumors.Benedikt, though for the most part a happy camper, like all Golubchiks, lives a subsistence level life. He reasons by observing, and this empirical narrative lens lets Tolstaya direct the reader into the storyworld with the same wide eyed wonder. Our hero has been shown to have 'pudential" some possibility of artistic talent, and unexpectedly marries above his class. His new Father In Law, is the Head Sanitorion, a government official in charge of 'cleansing', retrieving books surreptiously kept by Golubchiks. In the background lurking is the titular mythic beast, the Slynx .More detail than this would mess the plot.Mutant Bones:Scattered throughout the narrative, the many snippets of poems and allusions to great Russian poets: Pushkin (a looming figure in the novel), Blok and Pasternak serve as artifacts, fossilized bits from a pre Blast culture and are unidentified annotations for the 'oldener's introspections. Also, in a sense this is a warped Bildungsroman, as our practical hero has tasted art in the form of reading books and he quests to obtain more. His questing is confused, books for him are a form of living vicarious lives, simply another experience . He seems to only understand what he reads at the literal level. In a scene where he reveals to his oldener friend Nikita Ivaniich, that he has actually read confiscated books, Benedikt tries to impress by telling them he knew how "Freedom is made", he read "Knitting and Plaiting Sweaters" and it had explained a technique of stitching to create "freedom of movement". Enlisted and tutored by Nikita, Bennedikt carves a wooden statue of Pushkin, and helps erect it at the village crossroads. His mentor has tried to explain Immanuel Kant's discovery of the categorical imperative:"our inner moral law is inscribed in fiery letters in The Book of Being.. and our life young man, is a quest for this book..and Pushkin knew this!"I wish I could read Russian just to compare Jamey Gambrell's translated prose with Tolstoya's original, because the prose sings:"You're born, you die, you get up, you lie down, you dance at your neighbor's wedding, or in the morning in the stern raspberry dawn you wake in fright as though somebody hit you with a stick, like you alone remain alive on earth- and the stars are still there, always still there, pale, indistinct, eternal, silent."What I took awayThis was a sheer guilty pleasure to read. There are no brainer referents to modern Russian historical socio-political entities to the futuristic storyworld of The Slynx, but there are many ambiguities where as stated at the outset, if it was a straightforward allegory of this = that, why isn't there a consensus what "that" is? It could be argued the narrative wandered a bit in a place or two, but with Tolstoya's ebullient prose, one can only say, by all means..help yourself
Review by jasonpettus
16/06/2015
(Reprinted from the Chicago Center for Literature and Photography [cclapcenter.com]. I am the original author of this essay, as well as the owner of CCLaP; it is not being reprinted here illegally.)Ah, those Russian writers -- those crazy, drunken, angst-filled, delightful Russian writers! Mention the phrase "Russian literature" to most Americans, and you're likely to see the same mental images appear again and again; the dense books, the heavy symbolism, the perverse dark humor, and of course the national introspection, always the national introspection, as inherent a part of Russian culture as monster-truck rallies are here in the US. And so it is with Tatyana Tolstaya's blackly funny <I>The Slynx</I>, which has quite the long history behind it: started in 1986 while Russia was still a Soviet state, not finished until 2000 under the equally absurdist Putin administration, now newly reprinted in English form by the publishing wing of the <I>New York Review of Books</I>, not to be confused of course with the 2003 hardback English edition by Houghton Mifflin, which is technically the version that was read for this review. Whew!And indeed, if you're a fan of Russian literature, <I>The Slynx</I> is sure not to disappoint; after all, Tolstaya is no less than the great-grandniece of Leo Tolstoy himself, not to mention one of the most famous intellectuals in contemporary Russia right now because of her popular television interview show "The School for Scandal." Set 200 years in the future, the novel is basically a farce on modern politics masquerading as a dystopian science-fiction story, a tale in which a mysterious event from the past known only as "the Blast" has rendered the city of Moscow back into a peasant-village-like state, with most of its citizens having no recollection of a civilized past and no idea how to recreate such a thing even if they wanted. It's a world where people have literally forgotten how to make fire, yet have somehow retained all the red-tape of the old Soviet bureaucracy; a place where mice have become the national currency, a place where people stand in line for hours for no reason at all, to receive nothing at all, because "that's the way government works."Throughout the novel we follow one of these "golubchiks" in detail, Benedikt the Decree Copying Man, whose job is to hand-copy the purloined works of their current leader (Fyodor Kuzmich Glorybe), who in typical style has re-named the city after himself, and lives in the crumbling remains of Red Square. And in fact as we follow the travails of our mentally challenged hero, we discover that a surprisingly large amount of 20th-century Russian life still remains in post-apocalyptic Moscow, only twisted now into black-comedy proportions, and with the people following these dictates through a combination of superstitious fear and just plain ignorance; how the KGB, for example, are now known as the "Saniturions," traveling the city in sleighs while wearing hooded red robes, confiscating forbidden books from average citizens with a weapon that's curiously sickle-like.In fact, this is one of the most delightful things about <I>The Slynx</I>, is in all the ways modern Russia has been twisted and perverted in this future vision, and special credit needs to be given to translator Jamey Gambrell for the rich English wordplays on display: to cite just one example, how the "degenerates" of our modern times, those in a post-Soviet world who ignorantly long for the old Soviet days, have literally become their own species in the future known as "Degenerators," mostly beasts of burden who are in charge of pulling the sleighs of the upper class, but during their time off still stand around the stables smoking cigarettes and bitching about the good ol' days. The book is full of such sly jabs at contemporary Russian life -- of the old "moozeeums" that are now hated and feared by the general populace, of the genetic mutations each person has on display and are simply known as their "Consequence."But then again, this attention to detail and history has its flipside as well, at least to American readers, in that many of the references are to things most Westerners have no clue concerning; I myself, for example, was having to constantly refer to Wikipedia while reading the novel, looking up such people as Alexander Pushkin who play a heavy metaphorical role in the tale, as well as such Moscow landmarks as the Nikitsky Gates. As funny and well-written as <I>The Slynx</I> is, as an American you can't help but to suspect that roughly half the story is going over your head, especially the unending poetry quotes that will not make much sense to most Western readers, but I've been told are highly symbolic and historical quotes from classic Eastern literature that will have most Russians laughing and nodding their heads.Again, you don't have to be an expert on Russian literature and history to enjoy <I>The Slynx</I>; anyone with even a basic knowledge of what happened there in the '80s and '90s will be able to follow the book's metaphors quite easily, and will find a lot in this self-contained magical-realism volume to be entertained by. It's just that the book doesn't feel <I>complete</I> without this detailed knowledge; that it simply comes off as a funny yet cautionary tale about authoritarian societies and self-involved dissidents, instead of the national sensation that it was in Russia itself when first published seven years ago. It's a book I recommend, but with a caveat; that it's a surprisingly hard read, given that it's written in the form of a twisted fairy tale, and certainly not a beach book unless you're planning on dragging a set of encyclopedias down there as well. For those with a more detailed education in the history of Russian intellectual thought, there are all kinds of subtle and hidden gems buried among the pages of this novel; for the rest of us, though, caution and patience is advised.<I>Out of 10:</I> <b>7.6</b>
Review by HeikeM
16/06/2015
On the surface this is your post-apocalyptic tale - a strange, dystopian world, where nothing is as it was before the "blast". Names and words have changed their meaning or have no meaning at all any more. Society has shrunk to only a few, life is hard - all the expected paraphernalia are there. But you'll find very quickly that this is so much more. It is firstly a wonderful satirical take on tsarist Russia, the revolution and then communism with all it's political and social consequences, class systems and briberies. Even if you are not very knowledgeable on all things Russian you will recognize it. And then there is another, very different level. It is about books, words, poetry, the meaning of phrases, the content of fables, novels and factual books, the knowledge and history - the written word in all it's forms and guises. And it is about the people who read these books and have no connection to the words, hardly understand the meaning, can not take anything from them - it is about the ultimate apocalypse. It is a wonderful, funny, satirical and beautiful book and it is very sad - and it has no ending. Fantastic read!
Review by StevenTX
16/06/2015
Two hundred years after "The Blast" life goes on in a nameless Russian community. Benedikt is a typical Golubchik, a free member of the working class. By day he works copying the works of his great leader, Fyodor Kuzmich, on sheets of bark. After work he catches a few mice for his supper (mice being almost the only creatures left that are safe to eat), and by night he occasionally has nightmares about the Slynx, the deadly and invisible monster that lives in the woods.Though Benedikt isn't a member of the privileged Murza class, at least he seems to be free of the Consequences (mutations) that have deformed many of his fellow Golubchiks. And he is certainly better off than the Serfs who wait on the Murzas or the sub-human Degenerators who go about on all fours and pull the Murza's sleds. The first half of The Slynx is a detailed picture of Benedikt's life, his community, and its social structure. There isn't much in the way of plot; instead it is an obvious satire of Russian culture, both before and after the collapse of the USSR. One might call it a post-apocalyptic Animal Farm.In the second half of the novel, Benedikt marries into the Murza class. He becomes a Saniturion, an agent whose job it is to seize pre-Blast books that the Golubchiks are hoarding. The purpose is not to destroy the books, but to preserve them. The ignorant Golubchiks, after all, are likely to use them just to light fires or wipe their bums. But are the Murzas any less ignorant? Does it do any good to respect our cultural heritage if we refuse to learn from it?In the end The Slynx becomes a sort of reverse Fahrenheit 451, painting an even gloomier portrait of a species doomed to repeat endlessly the mistakes of its past, just as post-Communist Russia is reinventing many of the evils of the USSR. As a reading experience, The Slynx is rather uneven. Parts of it are hilarious, and parts are prophetic, but the first half of the novel often seems to be going nowhere. It requires a little patience to get to the midpoint, at which point the plot and themes finally begin to emerge.
Also by Tatyana Tolstaya