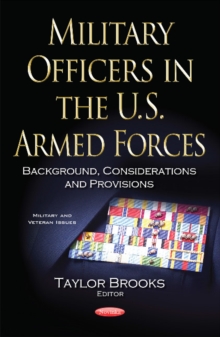 Military Officers in the U.S. Armed Forces : Background, Considerations & Provisions
Paperback / softback
Description
The Constitution provides Congress with broad powers over the Armed Forces, including the power "to raise and support Armies," "to provide and maintain a Navy," and "to make Rules for the Government and Regulation of the land and naval Forces. "It also provides the Senate with the authority to provide Advice and Consent on presidential nominations of all other Officers of the United States, which includes military officers.
On the basis of its constitutional authority, Congress has passed a number of laws which govern important aspects of military officer personnel management, including appointments, assignments, grade structure, promotions, and separations.
This book provides an overview of active duty general and flag officers (GFOs) in the United States Armed Forces -- including authorizations, duties, and compensation -- historical trends in the proportion of GFOs relative to the total force, criticisms and justifications of GFO to total force proportions, and statutory controls.
Information
Format: Paperback / softback
Pages: 100 pages
Publisher: Nova Science Publishers Inc
Publication Date: 01/12/2016
Category: Land forces & warfare
ISBN: 9781536103168