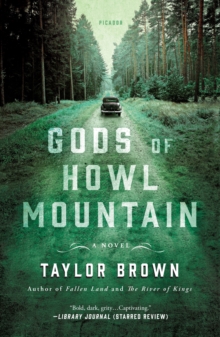 Gods of Howl Mountain : A Novel
Paperback / softback
Description
Maybelline Docherty, "Granny May," is a folk healer with a dark past.
She concocts potions and cures for the people of the mountains - her powers rumoured to rival those of a wood witch - while watching over her grandson, Rory Docherty, who has returned from the Korean War with a wooden leg and nightmares of the Battle of Chosin Reservoir.
Rory runs bootleg whiskey in a high-powered car to roadhouses, brothels, and private clients in the mill town at the foot of the mountains - a hotbed of violence, moonshine, and the burgeoning sport of stock-car racing. Granny May must help her grandson battle rival runners and federal revenue agents, snake-handling pastors, and the mystery of his own haunted past: namely, the real story behind his mother's long confinement in a mental hospital, during which she has remained completely silent.
With gritty and atmospheric prose, Taylor Brown brings to life a perilous mountain and the family who rules it, tying together past and present in one captivating narrative.
Information
Format: Paperback / softback
Pages: 304 pages
Publisher: St Martin's Press
Publication Date: 19/02/2019
ISBN: 9781250311580
Free Home Delivery
on all orders
Pick up orders
from local bookshops