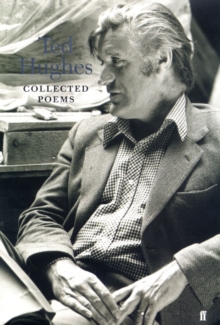 Collected Poems of Ted Hughes
Hardback
Description
From his remarkable debut The Hawk in the Rain (1957) to his death in 1998, Ted Hughes was a colossal presence in the English literary landscape.
This edition collects for the first time his poetry of five decades, including such characteristic achievements as Crow, Tales from Ovid and Birthday Letters.
It also charts the parallel but less familiar story of Hughes' private-press publications: a manifold activity ranging from broadsides and pamphlets to entire collections of poems, many of which have not previously circulated beyond their original readership.
The Collected Poems reprints the ensemble of the published poetry, including those poems written 'within hearing' of children which Hughes marked out for a separate adult readership, and the nearly two hundred uncollected poems which he published in periodicals but never reprinted.
The various lives of the poetry are here integrated within a single chronology, and the notes give evidence of their interconnection, and of the extent to which revision was integral to this complex and copious body of work. "A guardian spirit of the land and language." (Seamus Heaney).
Information
Format: Hardback
Pages: 1376 pages
Publisher: Faber & Faber
Publication Date: 01/10/2003
Category: Poetry
ISBN: 9780571217199
Other Formats
Paperback from £17.95
EPUB from £11.99
Free Home Delivery
on all orders
Pick up orders
from local bookshops
Reviews
Showing 1 - 1 of 1 reviews.
Review by pksteinberg
16/06/2015
Just as Sylvia Plath's journals and letters home construct an autobiography of her, The Letters of Ted Hughes form a partial autobiography of him. The poems in Crow changed the way I viewed him as a poet; and Nick Gammage's The Epic Poise changed the way I viewed him as a man. These letters continue to evolve the image of Ted Hughes, which frankly had nowhere to go but up. Occasionally I asked myself, "Should I be reading these?", just as I ask myself that same question when I regularly read Plath's journals and letters. But the answer is always, "Yes."This book, the first of its kind for a man who was known to be a very private person, further opens Ted Hughes. Similarly, in some way, to those "raw and unguarded" Birthday Letters. When Hughes sold his archive to Atlanta, he allowed for the demolition of that private wall he had built up around him. His archives are open in Atlanta, and another will be in the coming year in London, allowing further access into his life and his mind. Perhaps these letters, selected and edited by Christopher Reid, are not as candid as his private journals are, but over the many decades of Hugheses writing life, these letters show many phases of this controversial man. They make for fascinating reading and remind me of what a good writer he was. Throughout the book, Hughes constantly looks back and what had had done - creatively - and talks about what he should (or could) have done. I wonder if his late confession that writing and publishing Birthday Letters really did free him? Being on this end of the creative process allows for a unique perspective into Hugheses writing habits, publishing habits, etc. We're on the outside looking in; while at the same time on the inside looking out. Hughes was always amenable to collaboration, most successfully with Fay Goodwin in The Remains of Elmet and Seamus Heaney in The Rattle Bag and The School Bag. But, one wonders if the collaboration was done as a distraction, or a way to avoid certain things, or if he hoped it would spawn poems. But, from all this wonderful correspondence, the one major selling point - to peanut crunchers like you and like me, is the life, death, and afterlife of his first wife, Sylvia Plath.The love letters to Sylvia Plath are beautiful. It makes one wish their courtship was longer. In a world of short & staccato emails and incomprehensible & abbreviated text messages, it is reassuring to read actual love letters. However, from the height of this courtship, the letters reach their nadir in the late summer 1962 letter to his sister, Olwyn Hughes, where the discussion focuses on his need for cash, to "swell a private account." This is a far, far cry from the letters addressed to his "kish and puss and ponk." And the letter from September 1962, also to Olwyn, is one of those curious ones sent maybe from London by Alvarez or someone else, when he may have been in Spain already with Assia Wevill. From 1963 until the end of his life, the letters to Plath's family or friends, those regarding Plath publications, and Hughes' attitudes about Plath the poet and Plath the person make revelatory reading. For those whose only knowledge of their relationship was through biographies or even through the poems in Birthday Letters, the gains in understanding may be incalculable. Any letter included in this volume regarding Sylvia Plath should help to understand certain decisions and attitudes held and made by the Estate. If there are more letters out there, we can hope they too will be published or come to view, as well.The letters to Assia Wevill never quite match the passion of those to Sylvia Plath, but the nature of the relationship was so different that comparing them seems unfair. These letter say to me that she was just the other woman. Fortunately there is material about her (A Lover of Unreason) that does give her more presence. The letters from the 1970s, 1980s, and 1990s are fascinating, and there are spikes of interest that where the topic is Plath publications, biographies, and controversies.A huge change occurs in letters of 1997 and 1998. Hughes really begins to open up autobiographically. And, in particular, the letters just before and after the publication of Birthday Letters leading up to the last one are extraordinary. I found his surprise at the response and reaction to publishing Birthday Letters to be genuine; but that being said, I cannot fathom what would have happened had he published them sooner. The 1970s were marred by the rise of feminism; the "letters" just would not have been accepted. This carried into the 1980s when her Collected Poems & Journals were published. The later 1980s and early 1990s saw the rise of the Plath biography machine; making his own story seem defensive in a way; they could have been read as a corrective and would not have helped much. So, the timing being what it was, was just about perfect; it is unfortunate that he was declining in health. By 1998, things had quieted down enough to make the reception optimal. And, it worked.The best letters selected show Hughes supporting other poets & collaborating with a variety of artists and those to Frieda and Nicholas. His love for fishing is evident in the many letters on this topic and make - to my surprise - probably the most interesting reading. They show his most natural talent for detail, description, communicating, and living. The photographs portray those closest to Hughes, and of particular interest were photographs of Frieda and Nicholas. Seeing them with their mother as babies, it was astonishing to see them as toddlers, children, and young adults. Frieda has been more of a public figure than Nicholas, and while I respect both of their rights to privacy, I could not help being moved in the photograph of Nicholas and the Pike. Afterall, he was "the one solid the spaces lean on, envious."Though many letters are already held in archives, seeing them in a single volume makes for enlightening reading. However autobiographical they are, Christopher Reid is in the role of storyteller through his selecting and editing of these letters. The notes indicate many instances where text is missing, and one wonders what letters were not selected and what they may - or may not - add to this one-way life of the poet. Reid's notes, which follow many letters and introduce many "chapters" are informative and occasionally witty (I believe in text messaging this would be LOL & a smiley face). A nice touch. As someone who knew Hughes and worked with him, I wonder how much influence his image of Ted Hughes played in the selection? Regardless of any possible bias that may have gone into the selection, The Letters of Ted Hughes appears to me to be well-balanced.To those who contributed to the volume: a big thank you. Perhaps one day another collected edition of letters will be published, allowing for a deeper understanding of this man and opening up new layers and connections to 20th century poetry. Throughout the book, letters mentioning Sylvia Plath of course piqued my interest. It was challenging not to jump to the index and read these first. But, the whole story is worth waiting for, so I recommend reading the book from start to finish. It is a moving experience. And then go back as necessary to re-read letters by person or by year or whatever. That being said, there is so much in this 756 page book that reading the letters straight through almost cheats the reader of absorbing everything. This book will be a valuable resource for those interested in the Plath/Hughes story and I hope that upon re-reading certain letters, more can be discerned & known about his side of the story.