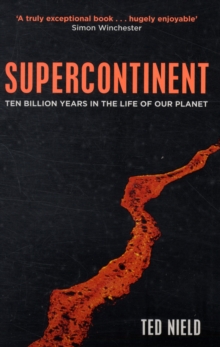 Supercontinent : 10 Billion Years in the Life of Our Planet
Paperback
Description
The shifting continents of the Earth are heading for inevitable collision.
Two hundred and fifty million years from now, all the landmasses on this planet will come together in a single, gigantic supercontinent which no human is ever likely to see.
That future supercontinent will not be the first to form on Earth, nor will it be the last.
Each cycle lasts half a billion years, making it the grandest of all the patterns in nature.It is scarcely a century since science first understood how Pangaea, the supercontinent which gave birth to dinosaurs, split apart, but scientists can now look back three-quarters of a billion years into the Earth's almost indecipherable past to reconstruct Pangaea's predecessor, and computer-model the shape of the Earth's far-distant future.Ted Nield's book tells the astounding story of how that science emerged (often in the face of fierce opposition), and how scientists today are using the most modern techniques to draw information out of the oldest rocks on Earth.
It also reveals the remarkable human story of the Altantis-seeking visionaries and madmen, who have been imagining lost or undiscovered continents for centuries.Ultimately all supercontinents exist only in the human imagination, but understanding the "Supercontinent Cycle" represents nothing less than finally knowing how our planet works.
Information
Format: Paperback
Pages: 352 pages
Publisher: Granta Books
Publication Date: 01/09/2008
Category: Popular science
ISBN: 9781847080417
Free Home Delivery
on all orders
Pick up orders
from local bookshops
Reviews
Showing 1 - 2 of 2 reviews.
Review by puttocklibrary
16/06/2015
A fascinating, and very readable history of our planet before humanity. An interesting mix of details about how we perceivedthe history of our planet, and the personalities of the people who discovered the various truths of its history.
Review by john257hopper
16/06/2015
This is a fascinating account of the history of our planet and in particular how continental drift has led to the formation and break up of continents over the lifetime of our planet and how this will continue into the future. It also tells of the history of the geological discoveries that have led to the state of the science of geophysics at the present time, with some colourful and interesting 19th and early 20th century characters along the way, working during the time when the modern science was taking shape and the evidence for the Earth's genuine age was becoming ever firmer. Although in places the chemical and biochemical details got somewhat too technical for me as a lay reader, this was a very good read and the names and shadowy nature of Ur, Rodinia and Pangaea will resonate with me in the future.