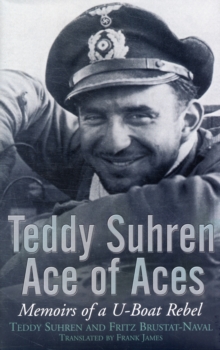 Teddy Suhren, Ace of Aces: Memoirs of a U-boat Rebel
Hardback
Description
Reinhard 'Teddy' Suhren fired more successful torpedo shots than any other man during the war, many before he even became a U-boat commander.
He was also the U-boat service's most irreverent and rebellious commander; his lack of a military bearing was a constant source of friction with higher authority.
Valued for his good humour and ability to lead, his nickname was acquired because he marched like a teddy-bear.Despite his refusal to conform to the rigid thought-patterns of National Socialism, his operational successes protected him, and he found himself accepted in the highest circles of power in Germany.
He was one of the lucky third of all U-boat crewmen who survived the war, largely because his abilities led to a senior land-based command.
He was also one of the first to publish his reminiscences, his account being typically forthright - its German title, Nasses Eichenlaub, suggesting that although he was decorated with the Oak Leaves, he was always in hot water.
He died in 1984 but interest in his career was revitalized by the discovery of photographs documenting one of his operations in U 564, published with great success in 2004 as U-Boat War Patrol by Lawrence Patterson.
Information
Format: Hardback
Pages: 256 pages, 60 photographs
Publisher: Pen & Sword Books Ltd
Publication Date: 21/04/2011
ISBN: 9781848326132