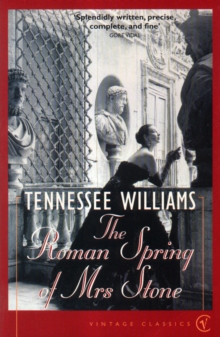 The Roman Spring Of Mrs Stone
Paperback
Description
Mrs Stone changed from a famous, rich American actress to a notorious, very rich American widow.
But the transition took years and all that time her youth and legendary beauty slipped away.
So she escapes to Rome. But even the distractions of the Eternal City cannot stop old age wrinkling its way into her life.
Frantic, she decides to take a lover, a young and very handsome Italian, being prepared to invest in his body for good return.
But the price is too expensive. Not in money, but in her dignity.
Information
Format: Paperback
Pages: 128 pages
Publisher: Vintage Publishing
Publication Date: 01/04/1999
ISBN: 9780099288626
Other Formats
EPUB from £3.99
Paperback from £11.39
Free Home Delivery
on all orders
Pick up orders
from local bookshops
Reviews
Showing 1 - 1 of 1 reviews.
The last rays of the afternoon spring sun caressed the stair of the Piazza di Spagna, in Rome. At the top, near the Egyptian obelisk of the Trinita di Monte, a beautiful young man, distinct from the multitude by the "dreadful poverty of his clothes and his stealth of manner", looks up at two women in the terrace of an ancient Palazzo.In the terrace, Mrs Stone, an american woman of a "certain grandeur which had replaced her former beauty", is trying to escape the "booming, incisive voice" of Meg Bishop, a former girlhood classmate with whom she had shared a bed in the dormitory: "Now let's stop this!" says Meg, and "at the same time she slipped an arm about Mrs Stone waist." Mrs Stone is not listening to Meg as her attention is drawn to a young couple dancing inside "in an almost stationary position and with no space between their bodies." Paolo, aware of her look, separates self-consciously. "You can't escape from public attention" roars Meg, "Let me tell you, the stock character of a middle-aged woman crazily infatuated with a pretty young boy (...) of the pimp or gigolo class..." Mrs Stone ran away from her friend and drifted aimlessly among guests and between rooms. The drift! That feeling of nothingness that started after Mr Stone died some and she retired from her great actress career, and made her do things without a reason. "But still down there, underneath the needle of stone that came from ancient Egypt, was the young man, of remarkable beauty, who had yesterday made an obscene sign to her."Paolo never fails "the sensuality of that hour" at Renato's barbershop every afternoon. In the Parruchiere per Uomo e Signora, Paolo brags to his barber, Renato, "equally handsome and only a shade less elegant", about his "protectors". "Indolence and sensuality " flowing between them, Paolo recites his adventures last summer with Signora Coogan and at the same time with Baron Waldheim, whom they both call "the Baroness", the "brief but very brilliant association" with the fashionable American lady, Mrs Jamison Walker, and now, for several months, with Mrs Stone, on whom he has great expectations because she is so much wealthier than the others. "But the defences of Mrs Stone were somewhat formidable" and Paolo wonders to himself if he will ever be able to break them. Suddenly they see Mrs Stone in front of the barbershop window, climbing out of her Cadillac. "I didn't know, said Renato almost apologetically, that she was such a great lady !"The current state of affairs between Paolo and Mrs Stone was not pleasing the Contessa. She had presented Paolo to Mrs Stone, expecting to receive half of the proceedings but Paolo was sharing nothing with her, and thought Paolo was lying since it was impossible that after some months he had not extracted any money or expensive gifts from the American. "What the Contessa failed to understand, said Paolo, was that Mrs Stone was not an ordinary lady." Although Paolo sensed a latent desire in Mrs Stone he had not been able to overcome her resistance to his advances. "There is no such thing as a great American lady" replied the irate Contessa "Great ladies do not in a nation that is less than two hundred years old." And she decided to call Mrs Stone. "He's the most charming boy in Rome, which makes it probable that he is also the most charming boy in the world." said the Contessa to Mrs Stone, adding that he was a little "marchetta", living very well without money or work. "How do you feel about such people?" asked the Contessa to which Mrs Stone replied that whe had nothing against them. "Good, good! said the old lady. (...) But make sure that you get your money's worth, cara! I think that the Signora Coogan was badly cheated." "And yet Mrs Stone could not deny to herself what she felt in her body now, for the first time, under the moon of pause which should have given her immunity to such feeling." She knew Paolo was a "little marchetta" and all he wanted from her was her money, but she could not resist her longings. And one evening, as he walked deliberately in her bedroom when she had told him that she was not dressed, and "leaned all the way down with open lips" she didn't let him complete the gesture, "her arms and her head" risen to him as the moon over water."It was true that for brief intervals in her relationship with Paolo, Mrs Stone had caught glimpses of something that she sought might be happiness." But soon after that night, they had their first quarrel. "Your were ridiculous last night" said Paolo "You asked me if I loved you." She tried to maintain her composure and he remained cool to her all afternoon. Only when she offered to buy him some new clothes in the best shops of Corso d'Italia, did he demurred and said that, unlike with Signora Coogan, he only accepted her gift because "we love each other." "He said this with such apparent simplicity and tenderness, that Mrs Stone burst into tears."One afternoon, while she was trying a fabulous diner gown of golden taffeta, Paolo bursts into her bedroom with his new grey flannel suit and pushes her aside from the mirror, never looking at her once. "Who is this boy that follows you all the time lately?", he asks her, referring to the poor young man of the Spanish stairs. "What? Who?" replies Mrs Stone. "The trouble, said Paolo darkly, is that you have made a spectacle of yourself!" Later, at diner in a restaurant, Paolo only had eyes to the young woman who was trying to feed him a red cherry, while their legs, under the table, intertwined. She left the table, suffocating, but nobody felt her absence. Near the front door she wept and murmured "What does that matter now?" and with her murmur she heard "a little sound of metallic tapping". Without looking she knew who he was: the persistent young man who had some days before discovered his nudity under a wretched coat. At that moment, Paolo appeared. "My God! Have you forgotten? You invited the Contessa and some friends to your apartment." She started to protest but he had already left and there was nothing she could do but pay and leave. "It was the most insufferable piece of rudeness to which she had ever been exposed" and she promised to herself once more that she would never again allow her dignity to be dented: "I am not going to lose my dignity no matter what happens!"They arrived late at the appointment and the Contessa, the young American film-actress she had invited as a bait to make up with Paolo, "like a lump of sugar to coax a fettlesome pony back into a stable", and two other young ladies had already been let in to the living room by the butler. The Contessa, her tongue freed by a glass of brandy, was badly gossiping about Mrs Stone and was overheard by her hostess. Paolo, who had heard them too, entered the room while Mrs Stone remained silently at the slightly opened doorway, "recoiled in shock and horror." Finally she entered and after the series of usual greetings, she said to the Contessa "Now, then, you can go with your story!" Paolo, meanwhile, had accompanied the young film-actress to the terrace. When, after a while, Mrs Stone followed them, Paolo was already alone. She left, he told Mrs Stone. "I told her you her hysterical." Her dignity gone, she was swept in a "tempest of fury." Paolo left the apartment for ever and "afterwards, she was not sure what she said to the Roman ladies." In her empty apartment, she was alone and "drifting, drifting." She went to the terrace and back to her room; she looked at the "white solitude of bed" and heard the clock ticking, time drifting with her. "Was anything fixed?" she thought. "Oh, yes! That figure of the solitary watcher beneath the Egyptian obelisk." Now something was beginning to happen. She went to the terrace and waved at him with her white handkerchief- She wrapped in it a pair of keys that opened the doors to the Palazzo and throw them down towards him. In a few minutes he would be there with her and the "nothingness would be interrupted. (…) Mrs Stone looked up at the sky which gave her the impression of having suddenly paused. She smiled to herself, and whispered, Look! I've stopped the drift!"