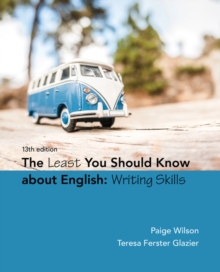 The Least You Should Know About English : Writing Skills
Paperback / softback
Description
Master the basics of writing with THE LEAST YOU SHOULD KNOW ABOUT ENGLISH: WRITING SKILLS.
The book's simple approach (embraced by students for decades) gives you the power to strengthen your writing with clear explanations, real-world samples, and practice from over 200 exercises with full answers that provide instant feedback in all areas of writing.
First, you'll learn the basics of word use, sentence structure, and punctuation.
You'll also find brief, easy-to-follow guidance for writing all types of paragraphs and essays and for strengthening basic skills (from writing summaries to including quotations) that you will use in college and beyond.
Exercises on a variety of topics broaden your knowledge of science, art, history, film, literature, social studies, business, and the media while you improve your English skills.
When the course ends, the book becomes a valuable "go-to" reference resource for all your future writing needs.
Information
Format: Paperback / softback
Pages: 336 pages
Publisher: Cengage Learning, Inc
Publication Date: 04/11/2016
ISBN: 9781305960947