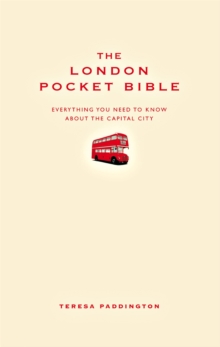 The London Pocket Bible
Hardback
Description
The London Pocket Bible offers entertaining advice for the visiting tourist or life-long Londoner, as well as: * Essential travel tips for the first time visitor; from not getting caught in the rush hour to understanding London's famous tube map * Being easy-to-use and small enough to take on the move as you travel around London * A handy reference guide; dip into as you visit sites such as the London Eye or Big Ben * A guide to fun days out with friends or the whole family, from the British Museum to a trip to Buckingham Palace to catch a glimpse of the Royals * This guide is more detailed than a guide book, fun facts about London's hidden character and historic architecture * A simple layout which acts as a reference book for long stays or as a quick guide for shorter visits * Interesting trivia about the capital and a glossary to make sure you're never baffled by the London jargon With a unique mix of practical tip, trivia and entertainment The London Pocket Bible is a gift-book that is more than just a travel guide, it's a fascinating insight, including: * Tantalising trivia about its many famous locations, from the London Eye to Tower Bridge, and icons from black cabs to beefeaters * Exciting and historical trips; explore London, from the quirky to the famous as well as the traditional side to the city * London's artistic and literary roots, from Shakespeare's Globe to Banksy's modern graffiti art * Facts and trivia about the macabre side of London including haunted London landmarks, folklore, and notorious criminals including Jack the Ripper * The London quiz, test your talents and prove yourself a worthy Londoner Here's what famous and historical personalities have to say about London: "No where else in the world can you see such a rich and original cultural scene."Twiggy "I just fell in love with London..." Madonna "I feel very at home in London.
It's a beautiful city, with beautiful history." Scarlett Johansson "When a man is tired of London, he is tired of life; for there is in London all that life can afford." Samuel Johnson "I love London.
I love England." Debra Messing "Maybe it's because I'm a Londoner, that I love London so." Hubert Gregg "London's calling" The Clash This beautiful hardback edition has both dust-cover and gold embossing on the spine making it the perfect gift.
Every Pocket Bible is lovingly crafted to give you a unique mix of useful references, handy tips and fascinating trivia that will enlighten and entertain you at every page.
There is a Pocket Bible for everyone...Other titles in the series: The Dad's Pocket Bible, The Railway Pocket Bible, The Traveller's Pocket Bible, The Allotment Pocket Bible and The Camping Pocket Bible.
Information
Format: Hardback
Pages: 192 pages
Publisher: Pocket Bibles
Publication Date: 13/07/2011
Category: Travel & holiday guides
ISBN: 9781907087271
Free Home Delivery
on all orders
Pick up orders
from local bookshops
Also by Teresa Paddington