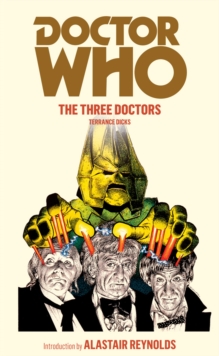 Doctor Who: The Three Doctors
Paperback
Description
A mysterious black hole is draining away power from the Universe.
Even the Time Lords are threatened. The Doctor is also in trouble. Creatures from the black hole besiege UNIT Headquarters.
The only person who can help the Doctor is... himself. The Time Lords bring together the first three incarnations of the Doctor to discover the truth about the black hole and stop the energy drain. The Doctors and their companions travel through the black hole itself, into a universe of anti-matter. Here they meet one of the very first Time Lords - Omega, who gave his race the power to travel through time. Trapped for aeons in the black hole, he now plans to escape - whatever the cost. This novel is based on a Doctor Who story which was originally broadcast from 30 December 1972 to 20 January 1973. Featuring the first three Doctors as played by William Hartnell, Patrick Troughton and Jon Pertwee, together with Jo Grant and the UNIT organisation commanded by Brigadier Lethbridge-Stewart
Information
Format: Paperback
Pages: 192 pages
Publisher: Ebury Publishing
Publication Date: 01/05/2012
Category: Science fiction
ISBN: 9781849904780
Free Home Delivery
on all orders
Pick up orders
from local bookshops
Reviews
Showing 1 - 2 of 2 reviews.
Review by kaylaraeintheway
16/06/2015
This is one of the short Doctor Who books I picked up at the Gallifrey One Convention last weekend. I got this one signed by the author for my sister, so I wanted to read it before I passed it along to her.As far as I know, most (if not all) of the Target-published classic Who books are based on episodes that aired. It was interesting starting with this book, since I have not actually seen any of the Classic Who episodes yet, but I still enjoyed reading this book. The 3 incarnations of the Doctor that make an appearance are all very distinct, and I really enjoyed the character of The Brigadier. Jo (the female companion), was routinely ignored and kind if useless, which is par for the course for the early Doctor Who stories. I rated this book higher than I probably would have had it not been a Doctor Who book, simply because it's a fun piece of Who nostalgia. This book (as well as the other Doctor Who books) are pretty short and therefore fast reads. But they are fun and fast-paced, with the Doctor's usual wit and quirks. I'm looking forward to reading the other books I got, as well as watching the classic series.
Review by Cataloger623
16/06/2015
This is story of how the Time Lords got time travel and the consequences that came upon them. Three Doctors violate the laws of time and come together to save the universe and time itself. Short fun read with insights into the early history of the Doctor and the Time Lords. Definitely worth reading and buying.
Also in the Doctor Who series | View all