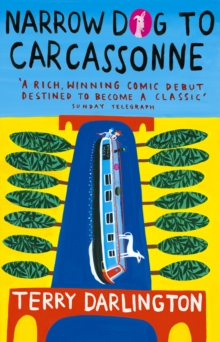 Narrow Dog to Carcassonne
Paperback
Description
'We could bore ourselves to death, drink ourselves to death, or have a bit of an adventure...' When they retired, Terry and Monica Darlington decided to sail their canal narrow boat across the Channel and down to the Mediterranean, together with their whippet Jim.
They took advice from experts, who said they would die, together with their whippet Jim.
On the Phyllis May, you dive through six-foot waves in the Channel, are swept down the terrible Rhone, and fight for your life in a storm among the flamingos of the Camargue.
You meet the French nobody meets - poets, captains, historians, drunks, bargees, men with guns, scholars, madmen - they all want to know the people on the painted boat and their narrow dog.
You visit the France nobody knows - the backwaters of Flanders, the canals beneath Paris, the heavenly Yonne, the lost Burgundy Canal, the islands of the Saone, and the forbidden ways to the Mediterranean.
Aliens, dicks, trolls, vandals, gongoozlers, killer fish and the walking dead all stand between our three innocents and their goal - many-towered Carcassonne.
Information
Format: Paperback
Pages: 432 pages
Publisher: Transworld Publishers Ltd
Publication Date: 03/05/2006
Category: Narrowboats & canals
ISBN: 9780553816693
Free Home Delivery
on all orders
Pick up orders
from local bookshops
Reviews
Showing 1 - 5 of 6 reviews.
Previous | Next
Review by uryjm
16/06/2015
Despite developing a kind of mild dislike for the author who, I seem to think, used to be in advertising or PR or something similar, this was an interesting story. One of the critics in the reviews for other books hit the nail on the head, however, by stating that all travel books these days needed a conceit of some sort. Taking a houseboat down through the canals in France – I mean why should we be interested? It's your dream, mate, so entertain me if you can.Well, I suppose he did in the end. It was a good trip, but I left it feeling that Darlington is a pub bore, that nobody knows better than him and that he itches and burns with a desire to let you know just how bloody smart he is. I felt this all through the book, but couldn't quite put my finger on it, and then discovered on finishing the tale that he'd penned a little postscript pointing to all the literary allusions and quotations he'd peppered the book with. In case you were too dumb to see them. Being not quite as intelligent as he is.
Review by ascapola
16/06/2015
Just picked this up in the "quick read" section at the library, but I loved everything about it - the interesting narrator and his wife and dog, the journey and the descriptions of canal life in England, Belgium and France.A retired couple and their 'narrow' dog, Jim, take their narrow boat from Stone to Carcassonne, via the Thames, the Channel and the Rhone. Darlington is a bit of a frustrated poet and his writing is lyrical, capturing special and scary moments in unusual ways.
Review by twilightlost
16/06/2015
I read the first few pages of this book in the bookstore and was giggling out loud so I bought it, thinking I would be as amused all the way. Didn't happen. It was interesting to hear about the different places but I kept doing negative comparisons to Bill Bryson.
Review by Fluffyblue
16/06/2015
This book is a fantastic read. Terry, wife and dog have a narrowboat and travel up and down Britain, before deciding to move their narrowboat to the South of France.The book tells of the journey across the Channel and through the canals of France, the people that they meet and the places that they stop off at. It is a fantastic book, really well written, easily read and very funny. It was a laugh out loud read for me.The writing is warm and friendly and Terry just comes across as the type of bloke you could sit and chat too in a pub who could keep you entertained with stories about people and travel for hours.I loved this book!
Review by LyzzyBee
16/06/2015
Ideal holiday reading, this is the slightly oddly (but lyrically) written account of a retired English couple taking their narrowboat and whippet from the Midlands to Carcassonne, via the Channel and all sorts of other rather alarming adventures. The style might be odd but the subject matter is engaging, especially if you know boats a little, and read-out-loud funny in many places. Pleasingly, there is a flamingo-viewing scene in Palavas-les-Flots, somewhere we have visited ourselves.