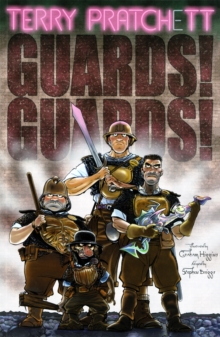 Guards! Guards! : A Discworld Graphic Novel
Paperback
Description
Some night-time prowler is turning the (mostly) honest citizens of Ankh-Morpork into something resembling small charcoal biscuits. And that's a real problem for Captain Vimes, who must tramp the mean streets of the naked city looking for a 70-foot-long fire-breathing dragon which, he believes, can help him with his enquiries. But there's more - now we get to see Ankh-Morpork in all its glory; illustrations so vibrant you can practically smell and taste the denizens of this delightful city (although with Corporal Nobbs, you might rather wish you didn't have to).
All rendered in painstaking detail by Graham Higgins (who feels he now knows altogether far too much about the murky goings on inside Nobbs' head).
Information
Format: Paperback
Pages: 128 pages, colour illustrations
Publisher: Orion Publishing Co
Publication Date: 01/12/2000
Category: Fantasy
ISBN: 9780575070714
Free Home Delivery
on all orders
Pick up orders
from local bookshops
Reviews
Showing 1 - 2 of 2 reviews.
Review by veracite
16/06/2015
I don't believe I would have known what was going on if I hadn't read the novel. Only Nobby looked like I imagined him, Vimes looked immensely wrong, but I liked how Lady Sybil was drawn.
Review by TPauSilver
27/08/2015
Graphic novel of the Pratchett book. The massive and overwhelming problem with this book is that adapting a novel into a single-volume graphic novel is going to mean you have to butcher the plot so much it's basically unreadable and that's so true here. I kind of followed what was happening based on having read the novel and guess work but that was difficult and I think that if I hadn't read the novel I'd have had no hope at all. That said, the art work was lovely, very rich and it captured a lot of the colour of the Discworld, and given the task they made a decent go at an impossible task. I'd recommend this book but only to serve as a kind of companion to the novel and, even then, strange breaks in the story that didn't correspond to page breaks and so no make it less than ideal.