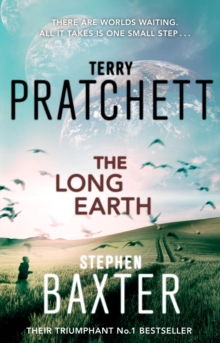 Description
1916: the Western Front. Private Percy Blakeney wakes up. He is lying on fresh spring grass. He can hear birdsong, and the wind in the leaves in the trees.
Where has the mud, blood and blasted landscape of No Man's Land gone? 2015: Madison, Wisconsin. Cop Monica Jansson is exploring the burned-out home of a reclusive (some said mad, others dangerous) scientist when she finds a curious gadget - a box containing some wiring, a three-way switch and a ...potato.
It is the prototype of an invention that will change the way Mankind views his world for ever. And that is an understatement if ever there was one...
Information
Format: Paperback
Pages: 432 pages
Publisher: Transworld Publishers Ltd
Publication Date: 09/05/2013
Category: Science fiction
ISBN: 9780552164085
Other Formats
Paperback from £7.65
EPUB from £3.99
CD-Audio from £15.75
Free Home Delivery
on all orders
Pick up orders
from local bookshops
Reviews
Showing 1 - 3 of 3 reviews.
Review by AdonisGuilfoyle
16/06/2015
A random selection for me, because I don't usually read Terry Pratchett (I know!), but half price is half price. Also, the blurb begins with this line - '1916: the Western Front. Private Percy Blakeney wakes up' - so this former Scarlet Pimpernel leaguette couldn't resist. However, I wuz robbed - the character is a reference to Baroness Orczy's hero, but doesn't feature above twice.Cute literary nods aside, the story itself was intriguing but rather a one-trick pony, until the final 'What is this, <i>Star Trek</i>?' chapters (and bonus points for mentioning my other fictional love). On 'Step Day', the population of Earth - and Madison, Wisconsin in particular - discover that there are millions of parallel worlds out there which people can 'step' into. Most need a gadget called a stepper to move into a different plane, but a few, like the book's hero Joshua, are born with this ability. Joshua takes off in an AI-powered airship to investigate these new 'worlds', and meets Sally, the daughter of the man who invented the stepper. That's about the long and short of the plot. I don't mind Terry Pratchett, though I'm not sure how much he and co-author Stephen Baxter contributed to the novel, but his whimsical, slightly surreal style of humour has never really tickled me (like Lobsang, the artificial intelligence with the soul of a Tibetan motorcycle mechanic, hoho). The concept of 'stepping' is clever, but the new worlds are all prehistoric wastelands of one kind or another, and the pioneer metaphor, with families like the Greens abandoning old Earth for a new start, was sort of abandoned for Joshua and Lobsang's jaunt through evolution, via <i>Flight of the Navigator</i> and the original <i>Star Trek</i>. Entertaining and thoughtful, but hardly earth-shattering, pardon the pun.
Review by AlanPoulter
16/06/2015
This novel is set in a promising parallel worlds scenario in which a device called a 'stepper' give access to an infinite sequence of copies of the Earth, none of which appear to be inhabited by humans. Appearing utopian, there are very dark dystopian possibilities. 'Wealth' in terms of land and resources are there for the taking, but this undercuts the rationale for government, society and civilisation itself.The novel flirts with this darkness, but does not engage with it. Instead we have a set of stock characters who go the motions of trying to keep things as they were and figure out what is happening. This wouldn't be so bad if it was not for the presence of an 'intelligent' wise-cracking computer and outbreaks of 'whimsicality' from, I presume, Terry Prachett, as he is new to me unlike Stephen Baxter, whose prose is standard issue. So, a good idea spoiled by the lazy re-use of props common in mass-media science fiction and a pointless intrusion of trite comedy.
Review by TheCrow2
27/08/2015
The first book of the Baxter and Pratchett collaboration trilogy is a great classic sci-fi. What happens if anybody is able to 'step' into infinite parallels Earths withe the help of a Simple device can be assemble at home. Imaginative, original and eventful, hardly wait the second book.