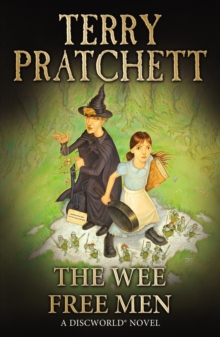 The Wee Free Men : (Discworld Novel 30)
Paperback
Description
A nightmarish danger threatens from the other side of reality . . . Armed with only a frying pan and her common sense, young witch-to-be Tiffany Aching must defend her home against the monsters of Fairyland.
Luckily she has some very unusual help: the local Nac Mac Feegle - aka the Wee Free Men - a clan of fierce, sheep-stealing, sword-wielding, six-inch-high blue men. Together they must face headless horsemen, ferocious grimhounds, terrifying dreams come true, and ultimately the sinister Queen of the Elves herself . . . THE FIRST BOOK IN THE TIFFANY ACHING SEQUENCE
Information
Format: Paperback
Pages: 320 pages
Publisher: Random House Children's Publishers UK
Publication Date: 29/04/2004
Category: Fantasy
ISBN: 9780552549059
Other Formats
CD-Audio from £12.15
EPUB from £1.99
eAudiobook MP3 from £8.00
Free Home Delivery
on all orders
Pick up orders
from local bookshops
Reviews
Showing 1 - 5 of 10 reviews.
Previous | Next
Review by melwil_2006
16/06/2015
This was one of those delightful books that you begin reading with absolutely no expectations. See, I'm not a huge fantasy reader. I find that a lot of fantasy books (to me) get too bogged down in talking about remarkable creatures and strange things, and forget that there is a story to be told. So when [info]lizbee gave me this book for my birthday, I entered the book with few expectations.And it blew me away.Firstly, I'm a sucker for a good child heroine. Tiffany Aching, armed with her book and her frying pan and her small army of fighting, drinking and stealing men is a wonderful main character. Although she admits that she doesn't like her brother very much, she'd willing and ready to go forth and rescue him. And despite the fact that witches are banned in her part of the world, she's determined to be a witch. And she'd read the dictionary from beginning to end.The Wee Free Men were also delightful, always ready for a fight (and a drink) whatever the circumstance might be.Pratchett's humour is, of course, one of the best things about the book. He had me laughing out loud over and over again - much to the bemusement of the people around me.
Review by reading_fox
16/06/2015
Tiffany Aching granddaughter of Granny Aching, The Sheperdess on all the downs and Chalk, pays attention to things around her and wonders about the morals of nursery tales. So should you. Although everyone knows that witchs need granite to grow, adn that Chalk is too soft, they forget about the flint inside..... Way darker than the younger designation suggests an entertaining tale, picking up on several threads from other works, and introducing new characters.
Review by Raven
16/06/2015
(I'm not actually making a deliberate effort to re-read all of the Discworld, it just... seems that way.)I'd forgotten the plot of this one, I have to say. The reason, which I discovered on this re-read, is that it... doesn't actually have one. This being a novel by Terry Pratchett, this isn't as much of a problem as one might think. In brief: Tiffany Aching, a shepherd's daughter from the Chalk, a part of the Discworld not entirely unlike Wiltshire, meets a horrible monster in a stream near her family's farm. Being a sensible, careful, logical sort of person, she hauls off and hits it with a frying-pan, using her little brother as bait. And that sets up how this story is going to go, right there. There are going to be magical goings-on, but they're going to be dealt with. Decisively. Tiffany, who is one of my favourite of the Discworld characters, is intelligent, sardonic, logical to the point of coldness, and a beautifully-observed, whole character who is perfectly capable of carrying the whole novel. Her story is told in bits and pieces throughout, and it is very much her story, despite the title of the novel.Which isn't to say that the Nac Mac Feegle don't have their place. They're wonderful - and I much prefer them in this friendlier, slightly-easier-to-understand version (the "adult novel" versions of them in <i>Carpe Jugulum</i> are much less fun), complete with shouts of "Crivens!" and "waily, waily, waily" and tendency to get pished. And more than that, they are a wonderful change from the usual sorts of little helpers that accompany young female heroines in kids' books about magic.Of course, once the story has all been set up, and the landscape of the Chalk, Tiffany and her family, and the Feegles' existence and slightly crazed theology have been given the attention they need, there isn't a lot of room left for plot, and the "rescuing brother from evil snow Queen" is far too <i>The Lion, the Witch and the Wardrobe</i> for words. But once it all has been set up, it's there for <i>Wintersmith</i> and <i>A Hat Full of Sky</i>, and those have all the good points of this novel, plus wonders of their own.
Review by kyuuketsukirui
16/06/2015
I liked this a lot, but then I would have been surprised if I hadn't. It's Pratchett, after all. Although it is a Discworld book, it didn't really feel Discworldish to me, and I can't really explain why. I had the same feeling with The Amazing Maurice and His Educated Rodents. It's not just that it's mostly cut-off from other Discworld locations and characters... Anyway, it's a fun book and I'm looking forward to reading the rest in the series.
Review by CatyM
16/06/2015
Tiffany Aching wants to be a witch when she grows up - but in the meantime she puts her incipient skills to good use rescuing her small and very sticky brother from the clutches of The Queen, aided only by a toad, a frying pan and a band of tiny, blue-skinned barbarian pictsies.I wasn't sure whether I'd like the Tiffany Aching books, given that I don't read a lot of YA lit. Beyond the fact that the main protagonists (well, the human ones) are children and the relative simplicity of the verbal puns, there's not a lot of difference between this and the adult Discworld books.Tiffany is an excellent character whose self-awareness grows a lot through the course of the book. I adored the Nac Mac Feegle, who hurtle with riotous abandon through the pages leaving chaos (but nothing that isn't nailed down) being them.This is a gloriously effervescent story, which has me really looking forward to A Hat Full of Sky and Wintersmith.
Also in the Discworld Novels series | View all