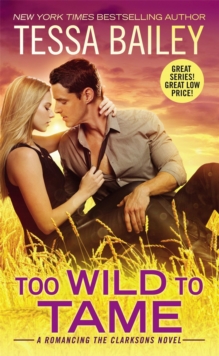 Too Wild to Tame
Paperback / softback
Description
Aaron Clarkson has dreamed of the White House since his very first debate team victory, and connecting with a presidential candidate while on the campaign trail in Iowa is the next rung in his ladder to the top.
While his siblings are grudgingly obliging his request to put the road trip on a short hiatus in Iowa, Aaron escapes their passive aggression by grabbing a beer in the local dive bar, where his attentions are quickly captured by a violet-eyed seductress in leather pants. Grace Pendleton is the black sheep of her family, but in the interest of creating a happy family portrait, she has been dragged along to smile for the camera while her father stumps for votes.
She only ventured into the rundown pub to use the restroom, but she couldn't resist a chance at making Aaron, the overly ambitious politico, pant for something he couldn't have. When a local cause in need of support draws both of their interest, Aaron and Grace find themselves in a battle for what's right - and in extremely close quarters, where resistance is futile.
But they're pulled apart all too soon by outside forces and the vastly different futures they aspire to.
They'll have to decide if their love is strong enough to draw them back together, but will the decision come too late?
Information
Format: Paperback / softback
Pages: 336 pages
Publisher: Little, Brown & Company
Publication Date: 31/01/2017
Category: Romance
ISBN: 9781455594153
Free Home Delivery
on all orders
Pick up orders
from local bookshops
Also in the Romancing the Clarksons series | View all