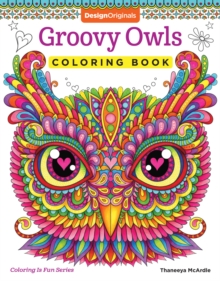 Groovy Owls Coloring Book
Paperback / softback
Description
Whooo wants to colour? Get ready for hours of relaxing creativity with these happy, mischievous owls.
Bestselling artist Thaneeya McArdle presents a parliament of owlish personalities for you to bring to life with beautiful colours.
Each adorable avian will take you to a happy place of patterning, shading and colouring.Thaneeya's whimsical images offer a fun and hassle free way to de- stress and unleash your inner artist.
Groovy Owls Coloring Book includes handy guides to colouring techniques like patterning, combinations and shading.
Guided Coloring Pages make colouring easy for beginners, with beautifully coloured examples and ready-to-use colour palettes.Perfect for decorating with all of your favourite colouring implements, each design is printed on one side only of archival-grade, acid-free, 200- year paper.
Perforated pages detach easily for gifting or display.
This book has earned the DO Magazine Artist Fair Trade Seal of Approval.