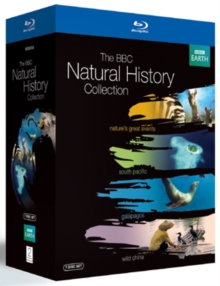 The BBC Natural History Collection
Blu-ray
Description
A collection of BBC nature documentaries. 'Wild China' (2008), narrated by Bernard Hill, focuses on one of the world's most enigmatic and magnificent countries.
The programme delves into the country's vibrant habitats to reveal a land of unbelievable natural complexity.
Journey across China, from the glittering peaks of the Himalayas to the barren steppe, the sub-Arctic to the tropical islands, through deserts both searingly hot and mind-numbingly cold and see, in pioneering images, a dazzling array of mysterious, beautiful, wild and rare creatures.
Tilda Swinton narrates 'Galapagos' (2005), which explores the distinctive flora and fauna of the Galapagos archipelago.
Charles Darwin's world within itself is the subject of this in-depth programme.
The Galapagos Islands are every botanist's Shangri-La: the 13 main islands are actually underwater volcanoes and are situated at the confluence of four oceanic currents.
This singular habitat, combined with its isolated location, has given rise to hundreds of varieties of flora and fauna found nowhere else but here. 'South Pacific' (2009) explores the vast South Pacific ocean and its many islands, giving viewers the opportunity to see beyond the white sandy beaches and palm trees.
Both the wildlife and the islander's way of life and rituals are examined, showing how both cope with their remote environment.
Highlights include spectacular sights of giant crabs that can open coconuts, undersea volcanos, and the use of super slow motion footage to capture the scale of some of the of the world's biggest waves. 'Nature's Great Events' (2009) chronicles some of the planet's most spectacular natural events, and shows how these phenomena can transform entire landscapes, drawing in millions of animals and determining their fate.
The series also explains how powerful natural forces can trigger chain reactions involving everything from microscopic organisms to entire tracts of rainforest.
Events featured in the series include the Pacific salmon run, the greening of the Serengeti, the plankton bloom in the Pacific Northwest, the spring thaw in the Arctic, the flooding of the Okavango Delta and the South Atlantic sardine run.
Information
Format:Blu-ray
Region:2
Certification:(Ex)
EAN:5051561000560
Catalogue number:BBCBD0056
Studio:2 Entertain
Release date:19/10/2009
Genre:Living World/Universe
Colour:Colour