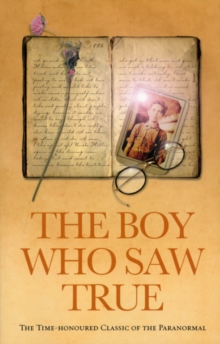 The Boy Who Saw True : The Time-Honoured Classic of the Paranormal
Paperback
Description
The Boy Who Saw True is based on the diary entries of a young Victorian boy whose extraordinary supernatural talent reveals itself within these pages.
By turns naive, insightful, funny and moving, it is an extremely convincing account of a precocious paranormal talent, and all the more persuasive because the young diarist never sets out to win over his readers.
Born with incredible clairvoyant powers, the anonymous author could see auras and spirits, yet failed to realise that other people were not similarly gifted.
This remarkable book has become a paranormal classic.
Information
Format: Paperback
Pages: 256 pages
Publisher: Ebury Publishing
Publication Date: 01/08/2005
Category: Mind, Body, Spirit
ISBN: 9781844131501
Free Home Delivery
on all orders
Pick up orders
from local bookshops
Reviews
Showing 1 - 2 of 2 reviews.
Review by Fantasyharper
16/06/2015
I first read this book years ago, when I first became interested in the paranormal, and I have treasured it ever since.The book is the diary of a young boy who grows up in England in the Victorian Era. A sensitive boy who can see aura's, spirits and other lifeforms, he would today be described as an 'indigo' child. But in the strict British middle-class family in which he grows up, he quickly learns to keep his observations to himself.The text is almost exactly as he wrote it down, full of funny little spelling mistakes which don't hamper reading, but rather pull you into this little boys world and way of thinking. His unique view of Victorian society is subtly hilarious (due to the Victorian diet and stiff upper-lip attitude, everybody is constipated, and his father's 'lights' (aura) look distinctly muddy whenever the poor man is having trouble going to the bathroom again).His 'old soul' wisdom, coupled with the naivety of a young boy is utterly charming.If you would like an intimate look into the lives of people in this bygone era, seen through the eyes of a sensitive soul, this is a book for you.
Review by biunicorn
16/06/2015
The Boy Who Saw TrueThe Time Honored Classic of the ParanormalIntroduction, Afterword and Notesby Cyril ScottThis is an absolute must read for any seeker interested in the gift of seeing. A Victorian diary of a boy whose extraordinary talent is expressed over and over again in this well known metaphysical classic. I found myself completely enthralled as I turned page after page. The thing I found most remarkable was the simple everyday entry's of the mundane, but from one who clearly saw what lay hidden for most of us. The language is precious and takes me back to an era I am sure I was in at one point or another. I loved the July 10th entry where he talks about seeing dark things in the sky during a thunderstorm and was so frightened that he hid under his bed covers. I think seekers of all ages and all spiritual paths can gain a lot from this poignant yet simple account of God's gifts at their best.Love & Light,Riki Frahmann