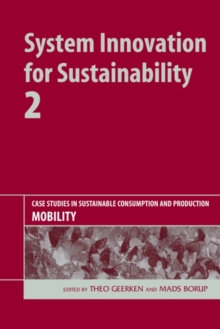 System Innovation for Sustainability 2 : Case Studies in Sustainable Consumption and Production - Mobility
Hardback
Description
The EU-funded project "Sustainable Consumption Research Exchanges" (SCORE!) consists of around 200 experts in the field of sustainable innovation and sustainable consumption.
The SCORE! philosophy is that innovation in SCP (sustainable consumption and production) policy can be achieved only if experts that understand business development, (sustainable) solution design, consumer behaviour and system innovation policy work together in shaping it.
Sustainable technology design can be effective only if business can make the products profitably and consumers are attracted to them.
To understand how this might effectively happen, the expertise of systems thinkers must be added to the mix. The publication in 2008 of System Innovation for Sustainability 1 was the first result of a unique positive confrontation between experts from all four communities.
It examined what SCP is and what it could be, provided a state-of-the-art review on the governance of change in SCP policy and looked at the strengths and weaknesses of current approaches.
System Innovation for Sustainability 2 is the first of three books of case studies covering, respectively, the three key consumption areas of: mobility; food and agriculture; and energy use and housing.
These three areas are responsible for 70% of the life-cycle environmental impacts of Western societies.
These case studies aim to stimulate, foster or force change to SCP theory in practice.
System Innovation for Sustainability 2 focuses on change towards sustainable personal mobility based on implemented cases analysed from a system perspective.
It examines what changes can be made to help us reduce our need for mobility, or start to make use of more sustainable mobility systems.
This is clearly a critical and highly problematic area, as increasing living standards of a growing global population have resulted in rapid rises in both car and air travel along with the associated pollution.
Uniquely, this book approaches the problems and solutions from a systems perspective, explaining the meta-trends, specific issues for the mobility sector, socioeconomic trends, political considerations, socio-cultural developments and environmental issues.
As well as the mobility system itself, other societal systems that impact the need for mobility, such as labour and taxation, are addressed in order to provide sustainable solutions to our current "lock-in" problems. Three major problem areas are considered (the "three Cs"): carbon emissions (and the growing contribution of mobility to the climate change crisis), congestion, and casualties. And each strategy proposed addresses one or more of these problem areas.
Among the cases discussed are: Norway's carbon compensation scheme for air travel; Madrid's high-occupancy vehicle lanes; London's congestion charge scheme; market-based instruments such as eco-labelling for cars; and taxation. The book identifies opportunities for actors such as governments, manufacturers and consumers to intervene in the complex system to promote sustainable mobility.
It concludes with a reflection on problems, trends and action needed. The System Innovation for Sustainability series is the fruit of the first major international research network on SCP and will set the standard in this field for some years to come.
It will be required reading for all involved in the policy debate on sustainable production and consumption from government, business, academia and NGOs for designers, scientists, businesses and system innovators.
Information
Format: Hardback
Pages: 177 pages
Publisher: Taylor & Francis Ltd
Publication Date: 01/10/2009
Category: Sustainability
ISBN: 9781906093235
Free Home Delivery
on all orders
Pick up orders
from local bookshops