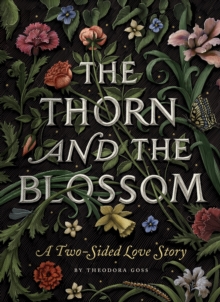 The Thorn And The Blossom
Hardback
Description
When Evelyn Morgan walks into Thorne and Son, a bookstore in the Cornish village of Clews, she doesn't know that she's going to meet the love of her life.
When Brendan Thorne sells her a medieval poem called "The Book of the Green Knight", he doesn't know that it will shape his future.
After that first meeting, they don't see one another for years - and yet they never stop thinking about one another.
It's as if they're the haunted lovers in the old book itself...
Information
Format: Hardback
Pages: 82 pages, Spot Illustrations
Publisher: Quirk Books
Publication Date: 05/03/2011
ISBN: 9781594745515
Free Home Delivery
on all orders
Pick up orders
from local bookshops
Reviews
Showing 1 - 5 of 45 reviews.
Previous | Next
Review by JBD1
16/06/2015
An imaginatively and well-produced book, bound such that the reader can choose which of two viewpoints to read first (and, when finished with that side of the story, the other is waiting to be read). A traditional love story, in very much an untraditional package.
Review by MyriadBooks
16/06/2015
Oh, I loved this. It is brief and bittersweet, and the interlayered tales may be too repetitive for some people's taste, but the stories were lovely and hopeful and beautifully written. At scarcely 40 pages for each layer, there wasn't nearly the space for character growth but the constriction worked very well within this structure. I was surprised as how much I enjoyed reading about two very flawed (read: realistic) characters, and I loved how Evelyn and Brendan's life-approachs and romantic mistakes were so circular — Evelyn's flaw was always in running way and Brendan's always in making errors of omission. It left with a feeling of not so much characters growing out of their mistakes but accepting they each have certain reaction tendencies they may make over and over again.What a perfect Valentine's Day read.
Review by kmartin802
16/06/2015
Usually when I am reading a story, the format doesn't matter to me - ebook, paperback, hardcover, PDF, or computer file are all just vehicles for the story and quickly fade into the background. But with this book it mattered. Initially, I didn't know how to hold this book. It kept falling into its accordion folds and ending up in my lap. I almost felt like it needed one of those reading stands that you see in medieval book rooms along with the white, acid-free gloves you wear to not damage the pages. The medieval feel supported the medieval story of lovers separated for a thousand years by a curse. The woodcut illustrations that began and ended each story also helped create a medieval feel.The stories though contemporary had an almost magical, lyrical feel which isn't surprising because the author is herself a poet. Each story is in three parts. In the first part Brendan and Evelyn meet in the small town of Clews in Cornwall. Brendan is back home from Oxford for the summer working in his father's bookstore. Evelyn is visiting the area where her ancestors came from as she finishes up her semester abroad at Oxford before returning to the United States. These two are both lonely and feel out of place in their surroundings. Brendan doesn't seem to fit in with the local boys he grew up with because of his interest in literature and scholarship and their interests in the sea and fishing. Evelyn has been hiding a secret since her childhood and she is quietly defying her family's expectation that the become a lawyer in favor of her own desire to be a scholar and poet. The first part ends after only a week when Evelyn flees the area after just one kiss from Brendan triggers a hallucination of him turning into a man made of branches and leaves.They reconnect years later at a small college in Virginia. Brendan is a tenured professor of medieval literature who has written a new translation of the legend of Gowan and Elowan and Evelyn interviews for an associate professor position. She had written a poem based on the legend called Green Thoughts. The romance rekindles but Brendan doesn't mention that he had married and that his wife was injured in a riding accident and is now in a coma in a long-term care facility. Evelyn thinks that she has finally outgrown the mental problems that plagued her childhood and sent her fleeing from Brendan in Clews. When Evelyn finds out about Brendan's wife she has another episode of the hallucinations that she thought were finished. She takes too much of the medication she hasn't used for years. By the time she recovers, Brendan's wife has died and he has left the college with no forwarding address.The final section comes full circle back to Clews. Brendan has returned to his father's house to re-evaluate his life. He is out fishing with his boyhood friends and is working on a children's book about the story of the Green Knight. Evelyn finds a new psychiatrist who helps her to realize that her hallucinations aren't destructive and that she can live around them. She decides that it is time again to write some poetry based on the legend of Gowan and Elowen. This would be a series of ten poems about the lives Elowen lived some with Gowan and some without as the two doomed lovers waited until the 1000 year curse was through.I loved the way the story of the modern lovers echoed the story of the medieval ones. I loved the lyrical language of this story. I thought the concept of the book design was intriguing and perfectly suited to the story that Ms. Goss was telling. I recommend this book highly both for its art and for the wonderful language.
Review by dgmlrhodes
16/06/2015
This book is truely unique from any book I've read before. It is set up in an accordian style binding where you can first read the story of Evelyn and turn it over to read the story of Brendan. The tale tells the story of two lovers, displaying each perspective. You have to read both sides to get the complete picture. I did at first find the binding to be difficult to deal with, but the book is short and an easy read. The story is an interesting literary read with some uniqueness to the story. Reader received a complimentary copy from Good Reads First Reads.
Review by detailmuse
16/06/2015
The Thorn and the Blossom is a contemporary love story. It opens as an American student at Oxford, on holiday in medieval-rich Cornwall, strolls into a bookshop and meets the son of the owner. Or, seen from the opposite perspective: a young man, enjoying a pint in a pub, sees a woman enter his father's bookshop and ducks back into the shop to meet her.I mention "opposite perspective" because it's part of the originality of this novella -- actually two short stories, one told in the man's perspective and one in the woman's; begin with whichever and then read the other. More originality comes from each story being printed on one side of a long length of paper that is folded, accordion style, and bound into a hardcover and stored in a slipcase. A delightful concept and physical presentation.The story itself is okay -- little story overall, then overly parallel and repetitious between the two narratives. But when considered in light of the medieval stories of Gawan, Elowen and Sir Gawain and the Green Knight that Goss summarizes, there is an homage and a somewhat satisfying echo in the contemporary story.(Review based on a copy of the book provided by the publisher.)