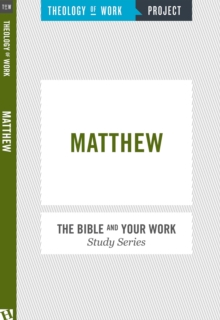 Matthew
Paperback / softback
Description
These Bible studies are part of The Bible and Your Work StudySeries.
Each book contains Scripture references, thought-provokingquestions, and prayers to help you explore what the Bible saysabout work and apply it to your life in positive, practical ways.
Thelessons in each chapter are designed for thirty-minute lunch breaks,although they can be used in other formats as well. Chapter 1. The Kingdom of Heaven Has Come NearLesson #1: The Kingdom of Heaven ArrivesLesson #2: Work In the KingdomLesson #3: Jesus CallingChapter 2.
Kingdom Qualities at WorkLesson #1: The Beatitudes' Guide to Workplace CharacterLesson #2: How Can Mourning and Being Poor In Spirit Be Productive?Lesson #3: Meekness Is the New StrengthChapter 3.
Kingdom Character at WorkLesson #1: Kingdom Character at WorkLesson #2: Kingdom Character Takes CourageLesson #3: Being Salt and Light in the WorkplaceChapter 4.
Kingdom Values at WorkLesson #1: Living Out the Righteousness of the KingdomLesson #2: Wealth and ProvisionLesson #3: Moral GuidanceChapter 5.
Kingdom LivingLesson #1: Co-Laborers with JesusLesson #2: Working in the KingdomLesson #3: Paying TaxesChapter 6.
Kingdom ActionsLesson #1: Conflict ResolutionLesson #2: We are All Laborers in the VineyardLesson #3: Servant LeadershipChapter 7.
Kingdom Words and DeedsLesson #1: In Word and ActionsLesson #2: Investing God's RichesLesson #3: The Least of These Matter MostChapter 8.
The Body of Christ at WorkLesson #1: The Work of Our Hands Is Kingdom Work
Information
Format: Paperback / softback
Pages: 96 pages
Publisher: Hendrickson Publishers Inc
Publication Date: 25/08/2015
Category: New Testaments
ISBN: 9781619706347