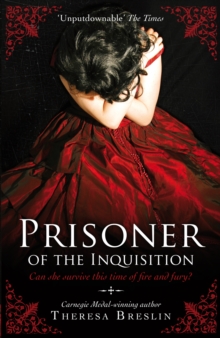 Prisoner of the Inquisition
Paperback
Description
Zarita, only daughter of the town magistrate, lives a life of wealth and privilege.
Indulged by her parents, she is free to spend her days as she pleases, enjoying herself in the company of an eligible young nobleman, horse riding, or leisurely studying the arts. Saulo, son of a family reduced by circumstances to begging, witnesses his father wrongfully arrested and dealt with in the most horrifying way.
Hauled off to be a slave at sea and pursued by pirates he encounters the ambitious mariner explorer, Christopher Columbus.
Throughout his hardships Saulo is determined to survive - for he has sworn vengeance on the magistrate and his family. As Zarita's life also undergoes harsh changes the formidable and frightening Inquisition arrives in the area, bringing menacing shadows of suspicion with acts of cruel brutality - and ultimately, amid the intrigues of the court of Queen Isabella and King Ferdinand in the splendid Moorish city of Grenada, betrayal and revenge . . .
Information
Format: Paperback
Pages: 320 pages
Publisher: Random House Children's Publishers UK
Publication Date: 01/03/2011
Category: Historical
ISBN: 9780552560740
Free Home Delivery
on all orders
Pick up orders
from local bookshops
Reviews
Showing 1 - 2 of 2 reviews.
Review by celerydog
16/06/2015
Enjoyable historical YA fiction. Characters well-drawn and historical facts woven in convincingly. Slightly heavy on name-checking historical figures and multiple signposts for the consequently predictable ending (using the old switcheroo method). Engaging, but somehow not memorable. Shortlisted for the 2011 Carnegie Medal.
Review by brokenangelkisses
16/06/2015
Theresa Breslin is a popular children's author whose books can be found lining school shelves as much as normal libraries. She has previously been awarded the Carnegie Medal (a well respected award for writing for young people) for her story 'Whispers in the Graveyard', a thoughtful and slightly fantastical book which, among other themes, explored the effects of dyslexia. 'Prisoner of the Inquisition' is her latest offering and has also been nominated for a Carnegie Medal. Could it repeat the success of her previous work?The premiseIn 1490s Spain the threat of the Inquisition hovers menacingly over the country. Queen Isabella and King Ferdinand are determined to unite their country in Catholicism. Zarita, daughter of her town's magistrate, has always lived a carefree life. She anticipates marrying a titled youth fairly soon and managing her own household. However, one day she makes a terrible mistake. Can she ever put it right? Saulo, son of a beggar, is stunned when his father is brutally treated by the magistrate. He vows revenge on the whole family as he sold into appalling slavery. Meanwhile, the agents of the Inquisition arrive and the whole town is cast into a nightmare. How will Zarita and Saulo survive?My thoughtsAn immediate concern with historical novels is that the story may become overshadowed by the weight of historical detail as the writer crams all their research into pages bursting with historically accurate but mundane trifles. However, this is never the case with this story. The focus here is firmly on the characters, their feelings and growing maturity. Even when a particularly renowned historical figure appears (in 1492) he fits into the story and becomes a fully realised character. I felt that this was a real strength of the book.The opening chapters are highly engaging. I thought this was good as, even though this is a children's book, my attention was secured straightaway and I was genuinely interested in reading on. The book opens with a prologue which recounts a burning. The shocking nature of the event is skilfully emphasised by Breslin using short, sharp sentences. Although this event is naturally rather horrific, the detail is not excessively gory and I do not anticipate this frightening readers. Also, I have a very sensitive stomach and I was able to read this – and the rest of the book – without any difficulties, so I can't imagine any stomachs being turned either.As the burning happens two years earlier than the first chapter there is a sense of foreboding and suspense created. I was full of questions: Who is this? What will cause this? (I was impressed that my assumptions turned out to be not quite correct but still plausible.) The threat of this moment hangs over the rest of the book and helps to create a sinister mood that suits the developing storyline.There is a great deal that happens in this book and I was slightly surprised to realise (when talking about the book with a colleague) just how much had happened in a mere 50 pages. The story did not feel overloaded by the plot, though; even though the chapters were nice and short the characters felt suitably developed. I liked the way they developed as a result of what happened to them. Furthermore, the issues established in the opening chapters are very relevant to what happens later on. I liked the way that, by the end of the story, all the threads of the tale had come together.The consequences of Zarita's mistake are serious and I thought that there was a good moral lesson contained within the story, which I have to confess I do like in children's books. She gradually accepts the consequences and learns to realise that people are more complex than she initially assumes. This development is well handled by Breslin. Similarly, Saulo has to confront his own demons and consider the value of revenge. This is less well handled, especially as his moral development involves a great deal of talking to another character he barely knows about fairly personal matters. However, this is a very minor quibble and did not really affect my enjoyment of the story.Something I found more irritating was the reinforcement of double standards. Zarita remains pure until she finds her one true love; Saulo is permitted (albeit in a throwaway sentence) to enjoy sensual delights before promising them to his true love. I suppose you couldn't really write a different story set in the 1490s (Zarita's astonishment when she is informed that it isn't only sailors who visit the 'ladies of ill-repute' at the docks is quite amusing) but I felt that it was a little disappointing. In fairness, I don't imagine this is something young readers will particularly notice.With the exception of the prologue, the story is narrated in the first person by the two main characters. The two stories don't overlap (so you get don't get two perspectives on the same event) but at some points in the story they do 'follow on' directly from each other. It was always very clear who was speaking as the different narrators always had their own chapter and their names were clearly written at the top. I felt the transitions between the narratives were well handled and it allowed for a lot of suspense as there are cliffhangers everywhere. For instance, at the end of one chapter Saulo notes tantalisingly that he 'still had the knife'. In adult fiction I tend to find such obvious cliffhangers rather clunky, but it does not bother me in the least in children's fiction. In fact, knowing how many children I teach who claim that they can get bored half way through a book, I imagine a few cliffhangers are a very useful touch.I liked the way Breslin handled the language of the characters. While some of them held impressively modern views regarding (for example) disability, there are enough touches of archaic phrasing in the dialogue to help the reader believe in the setting. Similarly, Zarita's defiance of her father is convincing (and will surely help young readers to empathise with her) but the effects of it are appropriately limited.A teenage viewpointMy experience leading a teenage book group led to some interesting discussion regarding the two narrators. Saulo's tale arguably contains more action and adventure; my boy readers found Zarita too passive and several stated that they thought the 'real story' was Saulo's. These boys found themselves rushing through Zarita's pages to get to the 'more interesting' story. The girls did not report a similar reaction; they found both narratives equally engaging.This didn't surprise me as it is a commonplace belief that boys prefer to read books with boys as the central character, while girls are happy to read books with male or female protagonists. I did, however, wonder whether the boys would have felt the same if the book had a different cover. The red dress and tagline 'can she survive this time of fire and fury?' do suggest that this book is aimed at a female readership. However, all the boys agreed that they liked the story and, in fact, some of them rated it very highly when we voted on the books they had read. This suggests that the book would suit girl and boy readers.ConclusionsThe story is easy to read as paragraphs and chapters are short but some of the vocabulary is quite challenging ('sanctimonious', 'petulance') so because of that and the subject matter I would recommend this to those who are 12+. The storyline is highly engaging and, helped by the dual narration, this should appeal to girls and boys. The atmosphere of 1490s Spain is skilfully evoked and the differences between then and now add to the interest of events without ever dominating the plot. The themes are very relevant to teenagers (such as learning to re-evaluate your family and take responsibility) and the moral heart of the book is clear without ever becoming irksome. I would definitely recommend this to young readers. Can it win the Carnegie? I would like it to and as would a few of my reading group. I think it could win and would be a worthy winner if it did.