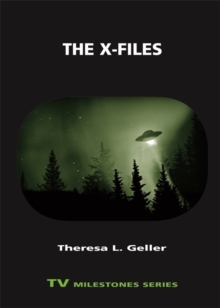 The X-Files
Paperback / softback
Description
Premiering in 1993 on FOX Network, The X-Files followed the investigations of two FBI special agents, Fox Mulder and Dr. Dana Scully as they pursued the supernatural, the bizarre, and the alien, as well as the government conspiracies at work to conceal the truth of their existence.
For nine seasons, Chris Carter's series broke new ground in complex narrative television by integrating science fiction and horror with the forensic investigation of the detective genre.
Shaped by the conspiracy films of the 1970s, the series had the ability to comment on the contemporary political climate one week and poke fun at its own self-seriousness the next.
Responding to its cinematic visual style, haunting score, complex and nuanced writing, witty dialog, and the exceptional acting of David Duchovny and Gillian Anderson, who elevated the show with their chemistry, fans embraced The X-Files, making it one of the most beloved cult television series to this day. The aim of this book is to provide the reader with several points of entry into the television series, with social, cultural, and political analyses framed by the examination of the show's many overlapping genres.
Divided into chapters highlighting the episodic standalones known as the ""monster-of-the-week"" (MOTW) and the serial mythology or ""mytharc,"" the first section of the book explores the ways the MOTWs represented social differences in stories of fantastic, supernatural beings both strange and estranged.
Through comparative analyses and detailed discussions of individual episodes, it becomes clear that the MOTWs were less concerned with the alien than with alienation, using the figure of the ""monster"" to focus on a range of ethnic, racial, and social outsiders.
The latter half of the book turns to the serialized mythology, examining both the arc of the alien conspiracy as well as the fan-driven relationship between Mulder and Scully.
While the romance subplot was powered in part by the show's fans, the alien-government conspiracy mythology was Carter's unique vision.
This volume argues that The X-Files was a milestone because it employed the generic tropes of science fiction to call our attention to contemporary global politics and the history behind them.
Specifically, Theresa Geller maps the ways the series used the mytharc not to predict the future, but to unbury the violence and injustice of our own past. With its return to television as an ""event series"" in 2016, this volume offers a timely assessment of the show's cultural relevance and social significance.
Fans of the show, as well as readers interested in cultural studies, genre criticism, race and ethnicity, fan studies, social commentary, and gender studies will appreciate this insightful examination of the series.
Information
Format: Paperback / softback
Pages: 144 pages, 13 illustrations
Publisher: Wayne State University Press
Publication Date: 30/09/2016
Category: Television
ISBN: 9780814339428
Also in the TV Milestones Series series | View all