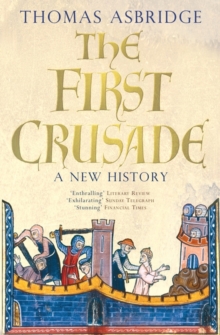 The First Crusade : A New History
Paperback
Description
Nine hundred years ago the Pope initiated one of the most controversial episodes in Christian history by stating that God wanted European knights to wage a fierce and bloody war against Islam and recapture Jerusalem.
Thus was the First Crusade born. Its story is compelling, capable of inspiring awe through tales of bold adventure and revulsion through excesses of violence and barbarity, while at the same time providing us with significant insights into medieval society, morality and mentality.
Tom Asbridge re-creates this fascinating period of history in a stunning narrative.
Compelling and enlightening in equal measure, and drawing on new research which has radically remoulded our understanding of the movement, THE FIRST CRUSADE is a major work by an outstanding young historian.
Information
Format: Paperback
Pages: 432 pages, 16pp colour
Publisher: Simon & Schuster
Publication Date: 04/04/2005
Category: General & world history
ISBN: 9780743220842
Other Formats
Paperback from £19.99
EPUB from £6.99
Free Home Delivery
on all orders
Pick up orders
from local bookshops
Reviews
Showing 1 - 3 of 3 reviews.
Review by john257hopper
16/06/2015
A tremendously readable account of a period of history about which I knew little beforehand. The author's lifelong love of his subject is evident and he is able to take an objective approach, seeing the Crusade neither as a wholly religiously motivated venture, nor dismissing it as simply an anti-Muslim onslaught motivated by greed. He also covers the massacres of Jews as the Crusaders, especially the People's Crusade, crossed Europe - perhaps an aspect of the Crusade less well known.
Review by eidolons
16/06/2015
I have to admit that this book took me a while to get through. My fascination with the Crusades is deep, but not boundless. The section of the book explaining probable causes of the crusade, the politics, the preparations, etc. was very dry to me. Asbridge expounds upon the history of history - which I give you has merit. Each detail he gives adds a dimension to the overall picture and it is all relevant. I just found it a bit hard to get through. After that, though.. wow! Just wow! The descriptions are amazing, the facts fascinating, the pace quick. I love that he admits where only speculation is possible rather than trying to pass it all as fact. The moment the crusading armies set out I found it hard to put the book down.If you like history, amazingly balanced history, then this book is for you. I even managed to get my homeschooled seven-year-old interested in the Crusades with this book!
Review by stuartechambers
16/06/2015
This is an excellent book - At certain points in my life I have looked at all manner of history and come to the conclusion that allot of history is simply 'myth-history' (as history is always written by the victors) So, it came as no surprise how the man who unleashed the First Crusade (Pope Urban) had himself used propaganda to portray Muslims as brutal oppressors when in reality Islam had showed more tolerance to other religions than Catholic Christendom in the preceding centuries. During the years 1000 to 1300 CE Catholic Europe and Islam went from being occasional combatants to completely entrenched opponents and the chilling reverberations of this seismic shift still echo in the world today … and quoting Graham Anderson of the Oxford Times, 'Asbridge's new history eyes with understanding and unsqueamishness the motives of the crusaders … the savagery of the triumphant Christian warriors seemed to shock and delight contemporary commentators in equal delight. It is this duality of passion, religious and murderous that Asbridge analyses with so much skill.' A must for those who want to know the real history!