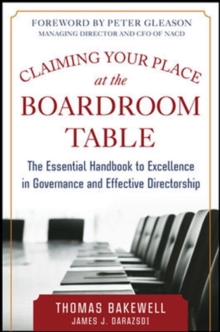 Claiming Your Place at the Boardroom Table: The Essential Handbook for Excellence in Governance and Effective Directorship
Hardback
Description
THE QUICK-ANSWER GUIDE TO YOUR CORPORATE GOVERNANCE QUESTIONSServing on a corporate board isn't what it used to be.
In today's complex business landscape, meaningful corporategovernance requires solid skills in problem-solving,relationship-building, crisis management, leadership development, management oversight, and much more. Written for both seasoned and first-time directors, Claiming Your Place at the Boardroom Table is a roadmap to becoming a highly knowledgeable and effective board member.
Whether you're dealing with intricate business regulations, powerful personalities, crucial audits, or the many other challenges that come with serving on a board, you'll find all the information and insights you need in these pages. Written by experts in the field, Claiming Your Place at the Boardroom Table covers:The essential objectives of the corporate boardAn overview of effective corporate board serviceSecuring an invitation to your first corporate boardPositioning to join your next or ideal corporate boardUnderstanding financial issues board members must coverAll the critical information you need to know about public company reportingProven ways to be a leading member of any board you serve onPacked with real-life case studies illustrating the best of the best practices, Claiming Your Place at the Boardroom Table helps you identify and navigate nuances that will make all the difference in becoming an outstanding board member.
Fascinating discussions of legalcases, reporting requirements, regulatory matters, reputational risks, and lessons on all the overarching fiduciary duties of directors are included. Being a member of a corporate board can be a remarkably rewarding journey both professionally and personally--if you go in with the right attitude, skills, knowledge, and instincts.
Claiming Your Place at the Boardroom Table takes you step by step down this exciting path to make it the most enriching experience it can be. PRAISE FOR CLAIMING YOUR PLACE AT THE BOARDROOM TABLE:"An excellent resource tool for all directors--a book that I know will be a "go-to" book for both new and seasoned board members." -- Margaret M.
Foran, Chief Governance Officer, VP & Corporate Secretary, Prudential Financial, Inc.; Director, Occidental Petroleum, Inc.; former Chairman, Society of Corporate Secretaries and Governance Professionals"A terrific handbook for every executive and director looking to achieve excellence in governance, and a great read." -- Benjamin F. (Tad) Edwards IV, Chairman, CEO and President, Benjamin F.
Edwards & Co., Director Cass Information Systems, Inc. "Practical and substantive; directors will find useful and productive.
Bakewell is an expert who earned the right to share with influence and impact." -- Nido Qubein, President, High Point University; Chairman, Great Harvest Bread Company; Director, BB&T, La-Z-Boy Corporation, and Dots, LLC"Rarely does a book have insights to offer to such a wide range of people.
For first-time directors, experienced directors, up and coming executives, academicians, and investors, it is a must-read." -- James S.
Turley, former Chairman and CEO, Ernst & Young; Director, Citigroup, Emerson Electric Company, and Boy Scouts of America; and Trustee, Rice University"Tom Bakewell has been active in the governance community for many years.
His wisdom and insights, presented here, are entertaining, informative, and clearly worth the read for both the new and veteran director.
Don't miss it!" -- Professor Charles Elson, Director, Weinberg Center for Corporate Governance, University of Delaware; Director, HealthSouth
Information
Format: Hardback
Pages: 304 pages
Publisher: McGraw-Hill Education - Europe
Publication Date: 13/10/2014
Category: Management decision making
ISBN: 9780071833585
Free Home Delivery
on all orders
Pick up orders
from local bookshops
Also by Thomas Bakewell