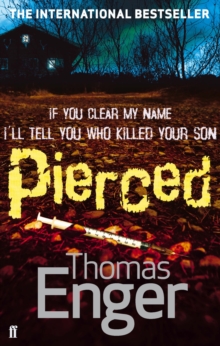 Description
A Convicted Killer: Despite always maintaining his innocence, Tori Pulli, once a powerful player on Oslo's underground crime scene, has been found guilty of murder.
A Loose End: Scarred reporter, Henning Juul, is contacted by Pulli, who claims that if Henning can help clear his name he can give him details of who was responsible for the fire which killed his six-year-old son, Jonas.
A Double Threat: Desperate to continue his own search for justice, Henning realises that the information Pulli promises is life threatening, to both of them and to others.
As events take a deadly turn, Henning finds himself on the trail of two killers for whom the stakes have never been higher...
Information
Format: Paperback
Pages: 544 pages
Publisher: Faber & Faber
Publication Date: 01/12/2012
Category: Crime & mystery
ISBN: 9780571272464
Other Formats
EPUB from £5.58
Hardback from £7.49
Free Home Delivery
on all orders
Pick up orders
from local bookshops
Reviews
Showing 1 - 1 of 1 reviews.
Review by ebyrne41
27/08/2015
This is the follow up to 'Burned' and the second in the series featuring Oslo-based journalist Henning Juul. The series is centered around Juul's struggle to deal with the death of his son, which he largely feels responsible for, and his efforts to get to the bottom of the fire that resulted in his son's death and he receiving extensive injuries.In Pierced, Tore Pulli, a prisoner with an upcoming appeal into his conviction for a murder, challenges Juul to find evidence of his innocence, Juul's incentive being that Pulli knows something about the fire that resulted in his son's death and will share it with him in due course. Convinced that something untoward resulted in the fire, Juul has no choice but to investigate despite the weight of evidence against Pulli and the type of character he is. With assistance from fellow journalist, Iver Gundersen, who also happens to be his ex-wife's partner, Juul sets about delving into the seedy and dangerous world of underground gyms and clubs in Oslo. A parallel story involving a news cameraman has you wondering for some time what relevance that story line plays but all eventually becomes clear. Its inclusion and outcome lends to a complicated and involving plot which, for me, was largely satisfying and deemed the book a worthy read despite the book maybe being unnecessarily long at over 500 pages.Juul's struggle to deal with his son's death, plus his relationship with his ex-wife and her current partner, add nicely to the story and indeed serve to enhance the book's overall appeal.Given that the series continues with 'Scarred', which I now look forward to reading, it might be safe to assume that Juul's struggle will continue a bit longer despite what this story might reveal. Enjoy, I did!