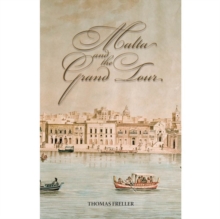 Malta and the Grand Tour
Hardback
Description
The phenomenon of the European Grand Tour to Italy, Sicily, or France has been extensively treated, but its extension to Malta has never analyzed at length.
The term 'Grand Tour' is mainly used to describe the European giro in the eighteenth century, but, to present a fuller picture, this book includes the sixteenth and seventeenth centuries as well as the first decades of the nineteenth century.
It throws light on the role of Malta in the period of the Ancien Regime, which in itself implies a certain homogeneity in European society and culture.
As this was the period when the island was governed by the cosmopolitan Order of St John, many phenomena and developments of European culture also found their echoes in the microcosm of Malta.
The travellers' tales and descriptions reflect this development. A closer look at the single cases of the European travellers suggests that the remote Malta of the Knights kept on attracting a tremendous number of visitors.
In spite of the upheavals, crises, and often deep uncertainty that mark the early modern period of European history, remote Malta was the focus of the interest for Catholics as well as Protestants, and people from France, Spain, Italy, England, the German lands, and the Scandinavian countries.
This book embraces the whole colourful spectrum of visitors to Malta when it was ruled by the Order of St John.
Visitors' perception did not change much when, after the short intermezzo of the French occupation, British Malta remained a magnet for travelers.
In fact nineteenth-century Malta was honoured with the visits of some of the greatest names of European culture and politics: Flaubert, Lamartine, Scott, Thackeray, Dumas, Gogol, Andersen, Byron, Verne, Garibaldi, Nelson, and Disraeli, to name but a few.
Others, like Coleridge, were temporary residents. This book ends in the late nineteenth century when the Moloch of industrialization had laid its strangling grip on nearly all aspects of life and culture.
It also started to sweep away the last patina of nostalgic, romantic, and adventurous travelling, as the era of mass tourism lay on the horizon.
Information
Format: Hardback
Pages: 779 pages, Illus.
Publisher: Midsea Books Ltd,Malta
Publication Date: 01/09/2009
ISBN: 9789993272489
Also in the MALTESE SOCIAL STUDIES SERIES series | View all