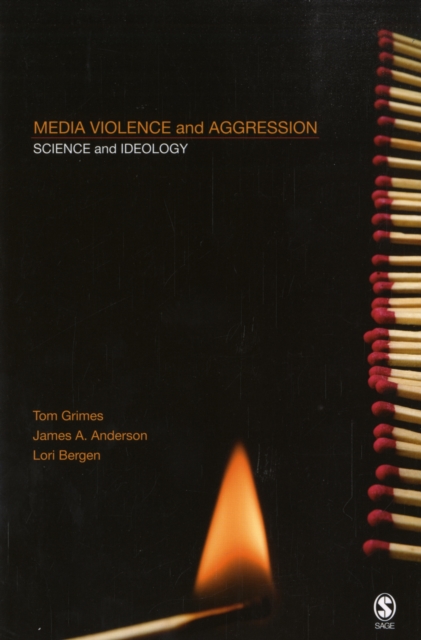 Media Violence and Aggression : Science and Ideology
Paperback / softback
Description
"Media Violence and Aggression is a thoughtful and sophisticated work that dismantles the core assumptions of the media violence hypothesis piece by piece...This book makes several core contributions to the discussion on media violence effects above those seen in other critical works."-Christopher J.
Ferguson, PsycCRITIQUESThe authors of Media Violence and Aggression: Science and Ideology, Tom Grimes, James A. Anderson, and Lori Bergen, are determined to leave no stone unturned, no perspectives unexplored, no names left unnamed of those in the field with whom, on both empirical and theoretical grounds, they strenuously disagree.
It is an engaging book that needed to be and is up close and personal.
In so doing, they have produced what may be the most comprehensive critique and rebuttal to date of the omnipresent media-violence and aggression argument." -JOURNAL OF MEDIA PSYCHOLOGYMedia Violence and Aggression: Science and Ideology provides a multimethod critique of the media violence/social aggression myth.
It provides policy makers and students with information to understand why the violence/media aggression hypothesis does not explain or predict how most people react to what they see and hear in the media.
Authors Tom Grimes, James A. Anderson, and Lori Bergen take the reader through a history of media effects research, pointing out where that research has made claims that go beyond empirical evidence.
Key FeaturesDispels the media violence/social aggression myth: Through a multiple method analysis of the myth, the authors provide empirical evidence for their decoupling of media violence from social aggression. Illustrates how much of the media violence/social aggression equation derives from ideology: Taking a different perspective from most other books on media violence, this text shows how very easy-how almost imperceptible-it is to adopt an ideological perspective. Shows how the media violence/social aggression hypothesis conflicts with a range of established social science theory: The book examines why theories generated by media violence/social aggression advocates aren't compatible with other social science theories that explain human behavior (and why they must be compatible in order to achieve validity). Considers media effects for the general population and psychologically unwell people: The book explains that the clinical population's reactions to media violence are often improperly presumed to be the reaction of the general, psychologically well population. Argues that certain science practitioners view children as more psychologically vulnerable to media violence than they actually are: Children are surely more vulnerable to many social and environmental influences than adults, but the degree of media vulnerability is often overstated. Speaks directly to policy makers: This book helps policy makers sort through both the nature of the evidence they are presented with and the risks that such evidence poses to the public. Intended AudienceThis is an ideal text for graduate courses such as Mass Communication Theory, Media and Society, Media Effects, and Research Methods in Media in the departments of communication, media studies, journalism, sociology, cultural studies, and political science.
It is also vital reading for scholars, researcher, and policy makers interested in media effects.
Information
Format:Paperback / softback
Pages:280 pages
Publisher:SAGE Publications Inc
Publication Date:08/11/2007
Category:
ISBN:9781412914413
Information
Format:Paperback / softback
Pages:280 pages
Publisher:SAGE Publications Inc
Publication Date:08/11/2007
Category:
ISBN:9781412914413