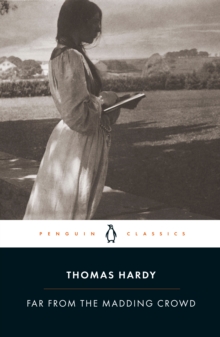 Far from the Madding Crowd
Paperback
Description
Far from the Madding Crowd was Thomas Hardy's first major literary success, and it edited with an introduction and notes by Rosemarie Morgan and Shannon Russell in Penguin Classics.Independent and spirited Bathsheba Everdene has come to Weatherbury to take up her position as a farmer on the largest estate in the area.
Her bold presence draws three very different suitors: the gentleman-farmer Boldwood, soldier-seducer Sergeant Troy and the devoted shepherd Gabriel Oak.
Each, in contrasting ways, unsettles her decisions and complicates her life, and tragedy ensues, threatening the stability of the whole community.
The first of his works set in the fictional county of Wessex, Hardy's novel of swift passion and slow courtship is imbued with his evocative descriptions of rural life and landscapes, and with unflinching honesty about sexual relationships.
This edition, based on Hardy's original 1874 manuscript, is the complete novel he never saw published, and restores its full candour and innovation.
Rosemarie Morgan's introduction discusses the history of its publication, and the Biblical and Classical allusions that permeate the novel.Thomas Hardy (1840-1928), born Higher Brockhampton, near Dorchester, originally trained as an architect before earning his living as a writer.
Though he saw himself primarily as a poet, Hardy was the author of some of the late eighteenth century's major novels: The Mayor of Casterbridge (1886), Tess of the D'Urbervilles (1891), Far from the Madding Crowd (1874), and Jude the Obscure (1895).
Amidst the controversy caused by Jude the Obscure, he turned to the poetry he had been writing all his life.
In the next thirty years he published over nine hundred poems and his epic drama in verse, The Dynasts.If you enjoyed Far from the Madding Crowd, you might also like Elizabeth Gaskell's Mary Barton.'Wonderful ... a landscape which satisfies every stir of the imagination and which ravishes the senses'Ronald Blythe
Information
Format: Paperback
Pages: 480 pages
Publisher: Penguin Books Ltd
Publication Date: 27/02/2003
Category: Classic fiction (pre c 1945)
ISBN: 9780141439655
Other Formats
Hardback from £6.85
Paperback from £2.50
EPUB from £2.99
Mixed media product from £12.11
Free Home Delivery
on all orders
Pick up orders
from local bookshops
Reviews
Showing 1 - 5 of 16 reviews.
Previous | Next
Review by edwardsgt
16/06/2015
I read this many years ago and it is one of Hardy's best novels.
Review by skullstuffing
16/06/2015
Quite frankly, there are better things to do (and read) with my time. I found this slow and tedious and odious and it has unfortunately put me off reading any of Hardy's works.
Review by theboylatham
16/06/2015
6/10.
The mainspring of the book centres around Bathsheba Everdene and her three suitors. And, in portraying her caprice and wilfulness gradually crushed by bitter self-knowledge and rejection.
Review by jayne_charles
16/06/2015
I was made to read this in English Literature at school when I was 14. Absolutely hated it, so full of flowery language that I skipped whole sections and completely missed the story. I came back to it when attempting to read through the BBC Big Read top 200 at the age of 34. I really wasn't looking forward to it, but of course this time round I loved it. Yes, Hardy is quite verbose, but this is basically a very good story, with characters you can warm to. At the age of 14 I was made to write an essay on whether or not Gabriel Oak is a too-good-to-be-true caricature. Asked that question now, I would say yes of course he is... and I don't care a bit.
Review by Renz0808
16/06/2015
Far from the Madding Crowd by Thomas Hardy centers on young Bathsheba Everdene, a strong fiery independent woman who has come into the good fortune of inheriting a farm in Hardy's Wessex. She will not allow herself to become dependent on a man and resolves to take care of her own farm and business. Bathsheba is also (of course) extremely beautiful and she knows this but is also very inexperienced in the ways of love and for the most part men. She is courted by three very different men, the first being Gabriel Oaks, who has the misfortune of losing his own farm in an accident, he contents himself by becoming the main shepherd on Bathsheba's farm and helping her in any way that he can even though she has declared to him that she does not love him or can never marry him because of the position he is in. The second man is Mr. Boldwood an older man, who owns the farm next to Bathsheba, he allows himself to become completely enamored with her and she becomes his only reason for living. The last man is a Sergeant Troy, who is young and very like Bathsheba in temperament and personality. These three men set the pace for the rest of the novel that takes readers on an emotional roller-coaster of plot twists and sub plots. This is the first Thomas Hardy novel that I have read and I was not sure what to expect. I have read very mixed reviews of his work and I was not sure how I was going to like this book. I have to admit that I liked it a lot more than I thought I would. I think the strongest aspect of this book is the fact that all of the main characters have faults that readers can identify with even to this day. Bathsheba is really a woman before her time, she just wants to make a mark on the world and she is very ambitious and her main fault is her vanity. She is really like almost every woman I know, she just wants to be told that she is beautiful but at the same time she wants to be independent. It is easy to imagine her and identify with her; she really is one of the most honest characters I have read in a long time. Similarly, the three main men who compete for Bathsheba's attentions all have their faults. Gabriel Oaks is probably the most honest, hardworking, steadfast man in the novel but at the same time he is also a little boring and not super cultured. Mr. Boldwood takes his passion for Bathsheba to desperate levels, and is subject to dark and changing moods. As for Sergeant Troy, he is a rake, scoundrel and at times a cad. Overall, at times the story could move slowly but I thought that for the most part it flowed well and kept my attention. I will be looking forward to reading later novels by Thomas Hardy to compare with this one.