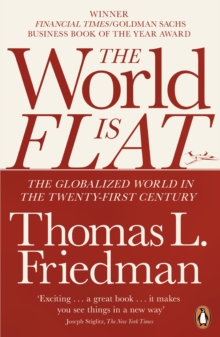 The World is Flat : The Globalized World in the Twenty-first Century
Paperback
Description
The beginning of the twenty-first century will be remembered, Friedman argues, not for military conflicts or political events, but for a whole new age of globalization - a `flattening' of the world.
The explosion of advanced technologies now means that suddenly knowledge pools and resources have connected all over the planet, levelling the playing field as never before, so that each of us is potentially an equal - and competitor - of the other.
The rules of the game have changed forever - but does this `death of distance', which requires us all to run faster in order to stay in the same place, mean the world has got too small and too flat too fast for us to adjust?
Friedman brilliantly demystifies the exciting, often bewildering, global scene unfolding before our eyes, one which we sense but barely yet understand.
The World is Flat is the most timely and essential update on globalization, its successes and its discontents, powerfully illuminated by a world-class writer.
In his new chapters: 'If It's Not Happening, It's Because You're Not Doing It' and 'What Happens When We All Have Dog's Hearing?' the author explores both the benefits and disadvantages of the very latest developments in global communication.
The emergent popularity of blogging, pod-casting, YouTube and MySpace enable the modern world citizen to broadcast their views to a potential audience of billions, and the proliferation of Internet access to even the poorest communities gives everyone who wants to the tools to address issues of social injustice and inequality.
On the other hand the technology that seems to improve communication on a global scale causes it to deteriorate on a local scale.
Identifying ours as 'The Age of Interruption', Friedman discusses the annoyance and dangers of BlackBerrys in meeting rooms, hands-free kits in conversation and using a phone or iPod whilst driving.
In an age when we are always 'connected' via email or mobile phone how can we hope to concentrate on one thing without interruption?
As expected the author has revitalised this new edition of The World Is Flat with timely insights into the nature of our flat world.
Information
Format: Paperback
Pages: 672 pages
Publisher: Penguin Books Ltd
Publication Date: 05/07/2007
ISBN: 9780141034898
Free Home Delivery
on all orders
Pick up orders
from local bookshops
Reviews
Showing 1 - 2 of 2 reviews.
Review by jahn
16/06/2015
I think it is a good book, deserving its bestseller status. It is long (600p +), rambling, and repetitive: a hundred and one interviews, portraits and citations in US journalese, but at the end it seems solid enough to me, really without the need of more structure. It should be about globalisation, but is nearly exclusively about the IT revolution part of it. The container revolution at sea, very much a prerequisite for having nearly everything manufactured in China, is not mentioned once; although Columbus and steam trains are given some credit for making the world smaller.To meet the new challenges in the USA the author suggests the need for more, and more engineering oriented, schooling, plus higher subventions for scientific research. And he believes that with a higher calibre leadership the dependency on oil, and the thereby indirect support of some bad regimes, could be ended. Putting a man on the moon on political demand showed that such a lift is possible he thinks.The book ends with an upbeat heart-wrencher: a private school for the children of untouchables near Bangalore in India financed by an US educated software entrepreneur. The author engages a little girl in a typing contest on computers there and loses, then asks the class what they want to become. The children, until recently absolute no-hopers, comes up with astronaut, surgeon, scientist etc. Touching to me, but I'm a softie. It's not a scholarly work, it's quite readable journalism attempting to find bright sides of what looks to be inevitable developments.
Review by Miro
16/06/2015
This book has a hurried feel to it as though Friedman has mashed together a pile of notebooks. It's over long and the breathless style gets tiresome (I had to force myself to finish it) but he's interviewed a great selection of people, Bill Gates, Michael Dell, Paul Romer etc. etc. and produced a useful book about the outsourcing of products and services.10 years ago I wasn't playing around with ADSL, Google, Skype or instant messaging but they're here now and he explains the explosion of "third world" development based on fibre optics and the internet world information platform.The book was written in 2005 and the situation has partly changed now due to the credit / oil / food price crisis. India and China are struggling with 11% inflation which I suppose they have to pass on to American and European retailers. He did anticipate that Asian demand would drive up the price of oil.