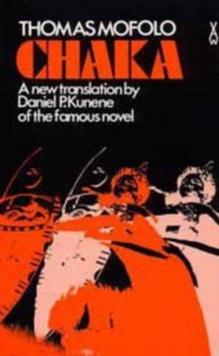 Description
Tells the classic story of the Zulu hero Chaka.
Information
Format: Paperback
Pages: 192 pages
Publisher: Pearson Education Limited
Publication Date: 13/04/1981
Category: Myth & legend told as fiction
ISBN: 9780435902292
Free Home Delivery
on all orders
Pick up orders
from local bookshops
Reviews
Showing 1 - 2 of 2 reviews.
Review by shawnd
16/06/2015
This is a somewhat unreadable book detailing the life of Chaka, a unifying king of previously unaffiliated and often warring Southern African communities/kingdoms. The book is halting and the flow is strained. The author has jumbled spurts of accounts of the daily life of 19th century African tribal life, spiritual rituals, political philosophy, and other detail. This winds around the life story of Chaka, an orphan of sorts, born into a situation where everyone around him in power wants him dead or sent away. The story follows his life and extreme struggles to become the most powerful tribal king in recent memory in Southern Africa. The story is filled with myth almost enough to seem cosmological. One especially painful recurring gush is the repetitive, repeating discourses of Chaka's spiritual mentor/witch doctor, who says the same five sentences more than twenty times throughout the book. Ultimately Chaka returns to a small kinghood and slowly accumulates and stretches his realm. In the process, he betrays the one closest to him and becomes something very far from his original innocent self.
Review by StevenTX
16/06/2015
Chaka, or "Shaka" as his name is more commonly written, was the greatest king of the Zulu nation, reigning from approximately 1816 to his death in 1828. Thomas Mofolo's novel presents Chaka as a tragic and semi-mythical hero who owed much of his military success to a Faustian deal with a sorcerer. From being a brave and virtuous youth, Chaka is corrupted by his unlimited ambition, becoming a cruel and ruthless conqueror who bases his power on the awe and fear he instills in his followers by arbitrarily killing friends and enemies alike, even members of his own family. Eventually he find himself hemmed in by his own web of fear and distrust.The basic facts in the novel are true to the historical record. Chaka is a king's oldest but illegitimate son, and he and his mother are banished from their homes because of his illegitimacy. His remarkable bravery and prowess in combat, however, earn Chaka the patronage of another king, Dingiswayo, to whom Chaka's father owes tribute. Through a mixture of violence and charisma, Chaka first succeeds his father, killing his younger brother in the process, then Dingiswayo himself. As king among kings, he revolutionizes the Zulu army by developing new weapons, tactics, organization and training regimens. He literally restructures Zulu society around his military aims, subordinating everything to conquest. The results are remarkably successful but devastating to the countryside and the people of southern Africa.The novel's Chaka gradually goes from being a sympathetic character, to a tragic hero, to a heinous villain. Chaka ceases to rely upon his own merits and depends on the magical aid of his mentor. This sends him into a spiral self-delusion and moral decay. This is a sophisticated and entertaining novel that teaches us much about Zulu culture and history, but whether it is a fair portrayal of Chaka is open to conjecture.
Also in the Heinemann African Writers Series series | View all