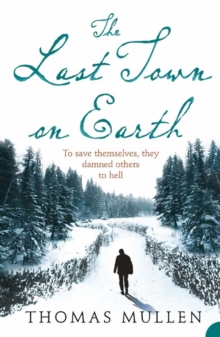 The Last Town on Earth
Paperback
Description
Set against the dual backdrop of World War I and the devastating 1918 influenza epidemic, `The Last Town On Earth' is a brilliantly drawn tale of morality and patriotism in a time of upheaval.Deep in the woods of Washington lies the mill town of Commonwealth, a new community founded on progressive ideals, and a refuge for workers who have fled the labor violence in the surrounding towns.
When rumours spread of a mysterious illness that is killing people at an alarming rate, the people of the uninfected Commonwealth vote to block all roads into town and post armed guards to prevent any outsiders from entering.One day two guards are confronted with a moral dilemma.
A starving and apparently ill soldier attempts to enter the town, begging them for food and shelter.
Should the guards admit him, possibly putting their families at risk? Or should they place their lives above his and let him die in the woods?
The choice they make - and the reaction it inspires in their town and beyond - sets into motion a series of events that threaten to tear Commonwealth apart.A sweeping cinematic novel, `The Last Town on Earth' powerfully grapples with the tensions of individual safety and social responsibility, of moral obligation and duty in the face of forces larger than oneself.
Information
Format: Paperback
Pages: 400 pages
Publisher: HarperCollins Publishers
Publication Date: 04/06/2007
ISBN: 9780007235001
Other Formats
Hardback from £9.49
EPUB from £4.49
Free Home Delivery
on all orders
Pick up orders
from local bookshops
Reviews
Showing 1 - 1 of 1 reviews.
Review by DeltaQueen50
27/01/2016
The Last Town on Earth by Thomas Mullen is a story about an isolated logging town in the state of Washington whose reaction to the 1918 flu epidemic was to close themselves off from the outside world. Blocking the only road into town and posting guards, they thought they would be able to keep themselves free of sickness. What they didn't expect was the appearance of a soldier who emerging from the forest, wanted to come into town for supplies. Not taking no for an answer, the soldier continued to press for admittance and the guards are forced to reply in a way that sets off a chain of actions that tears the town apart.This was my first book by this author and although the writing at times felt a little clumsy and overwritten, I was totally intrigued by the story. The author's descriptions of life in 1918 had an authentic feel and his characters were all well developed and complex. The Influenza is described in all it's horrible detail and certainly has left a vivid imprint in my mind. It's not often one discovers a historical story that is as original as this one and I learned a lot and not only about the epidemic. These were troubled times and the labour movement in the Pacific Northwest was unstable. This was also a time when women were agitating for the vote, and the population of the country was not totally behind going to war.I found The Last Town on Earth to be a novel that was deceptively simple, this was a story that had both range and depth. As a first novel there could have been some improvements, but I look forward to reading more from this author.