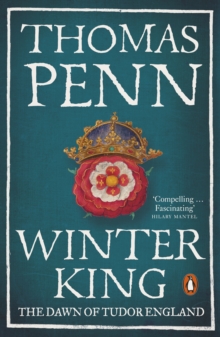 Winter King : The Dawn of Tudor England
Paperback
Description
Winner of THE HW FISHER BEST FIRST BIOGRAPHY PRIZE SPECTATOR BOOKS OF THE YEAR 2012 SUNDAY TIMES, DAILY TELEGRAPH, TLS, FINANCIAL TIMES, GUARDIAN, DAILY MAIL and SUNDAY TELEGRAPH BOOKS OF THE YEAR 2011 'He were a dark prince, and infinitely suspicious, and his times full of secret conspiracies and troubles' Sir Francis Bacon In his remarkable debut, Penn vividly recreates the dark and turbulent reign of Henry VII.
He traces the transformation of a young, vulnerable boy, Prince Henry, into the aggressive teenager who would become Henry VIII, and of Catherine of Aragon, his future queen. And at the book's heart is the tragic, magnetic figure of Henry VII - controlling, paranoid, avaricious, with a Machiavellian charm and will to power.
Information
Format: Paperback
Pages: 480 pages, col. Illustrations, facsims., geneal. table, maps, col. ports.
Publisher: Penguin Books Ltd
Publication Date: 01/03/2012
Category: British & Irish history
ISBN: 9780141040530
Other Formats
Paperback from £8.59
eAudiobook MP3 from £20.96
EPUB from £4.99
Free Home Delivery
on all orders
Pick up orders
from local bookshops
Reviews
Showing 1 - 5 of 6 reviews.
Previous | Next
Review by Widsith
16/06/2015
I was disappointed by this – it was decent but I think it was somewhat overhyped. Having seen it pop up in a lot of papers' Books of the Year lists, I think I was expecting something altogether more gripping and dramatic, but in the end I thought the story of Henry VII and the Tudor succession was just not an especially thrilling tale. Henry himself was clearly a distant figure who governed through his ministers, but this means that it's quite hard to get much of a sense of his character from the few sources available. Annoyingly, much of the most interesting stuff concerns his son, and whenever Penn comments intelligently on how the events here affected the future Henry VIII's reign I found myself perking up – such as the suggestion that Henry VII's marriage to Elizabeth was 'the kind of marriage that their second son, Prince Henry, would spend his whole life trying to find'. But that's not really what I wanted from a book about Henry VII.The prose is workmanlike. Penn sometimes overplays his material, ominously building up events which turn out not to be that dramatic after all. 'Whom' is only rarely used in this book; 'who' usually stands for both subject and object. That's obviously fine in speech, but it meant I had to reread a few of the sentences in here to work out what was exactly was happening.Penn is strong on writing paragraph-sketches of key figures in the regime, but he has an annoying habit of including so many of them that it becomes a demanding job to keep track of them all. Names are scattered around like confetti. This paragraph is typical (although it does include one of the rare 'whom's):<i>It was very probably the Hertfordshire knight Sir William Say – who as well as being an acquaintance of Archbishop Morton and More's father Sir John, was Mountjoy's father-in-law – who had provided the young More with an introduction to Mountjoy, with whom he became firm friends. The Say family, indeed, joined all the dots: Sir William was half-brother to Elizabeth countess of Surrey, and among the queen's gentlewomen was his sister, Anne.</i>This is fine at the start of a book, but when he was still introducing dozens of characters by page 300 I started to get a bit annoyed with it. Most are introduced and then dropped two pages later, never to reappear.The most fascinating parts for me turned out to be the sidebars on 16th-century Europe – the international trade in alum, monopolised by the Pope, smuggled across the continent by Henry, was something I knew nothing about. England's enclave in Calais is also something I'd like to read more on. Financial affairs in particular are very well handled here, and in Penn's retelling at least they were one of Henry's central preoccupations. But overall (and clearly I'm in a minority, since most people seem to have loved this book) I just felt there was a lack of narrative coherence. Most people who study the Tudors tend to start with Henry VIII, and to be honest after this I can see why.
Review by MarthaJeanne
16/06/2015
This is the prequel to the whole Henry VIII story we all know so well. It really does explain so much, and by the end you are all excited and ready for the prince to become king. Even though we know how it will work out.
Review by Eyejaybee
16/06/2015
An intriguing biography of a relatively little-known king who has been somewhat overshadowed by his son Henry VIII and granddaughter Elizabeth I in the popular reckoning of history.Thomas Penn has certainly been comprehensive in his research, and goes to considerable lengths to capture and convey the enduringly cautious and suspicious nature of Henry's reign. And he had much to be cautious and suspicious about! His title to the crown was tenuous at best - while he could claim descent from Edward III, there were plenty of others who had a stronger claim. Politically astute, he made some adept moves, including the dating of his reign from 21 August 1485. That was the day before the Battle of Bosworth in which he, narrowly, defeated Richard III; by backdating his ascension to the throne, everyone who actually fought against him at Bosworth was guilty of treason and consequently liable to execution if they failed to toe Henry's line.However, this did not prevent the proliferation of rival claims, including campaigns in support of two "pretenders": Lambert Simnel, a young and innocent puppet who was heralded as the Earl of Warwick, nephew of Edward IV, and, more threateningly, Perkin Warbeck, who claimed to be Richard of Shrewsbury, Duke of York (the younger of the two Princes in the Tower). Even after Warbeck's campaign was finally quashed, Henry remained convinced of a plethora of conspiracies against him.Generally viewed as an ascetic man, he did, through dexterous taxation policies (including "Morton's Fork", the campaign of his Chancellor Morton which served to wring out every last penny from the beleaguered nobility) establish a phenomenal wealth, and became the last monarch to die leaving a crown surplus.The book covers Henry's management of foreign and domestic policy in intricate, perhaps even over-elaborate, detail - indeed, I felt rather overburdened by much of it, and could have coped quite easily with a more cursory treatment in many areas.Still, overall this was an enjoyable and informative addition to the Tudor history canon,and I can see why it won so many critical plaudits .
Review by john257hopper
16/06/2015
This is a very well written account of the reign of King Henry VII, covering especially the last decade or so after the Perkin Warbeck rebellion and the tragically early death of Prince Arthur. Henry comes across as a distant figure, obsessed with establishing his dynastic legacy and preventing a return to the chaotic days of civil war in the Wars of the Roses. His obsessive means of raising money might be partly justified by the no doubt weak state of finances after those decades of war; but the unscrupulous and extra judicial methods he authorised, overseeing the conduct of the likes of Bray, Empson and Dudley leave a very nasty taste in the mouth. There are some appalling examples, e.g. the case of Thomas Sunnyff and his wife (pp275-7), falsely accused of murdering a baby and imprisoned for not paying an extortionate amount to be excused of the supposed offence. The atmosphere of fear and terror that was engendered, especially in the last three or four years of the reign, is well described. Once can quite understand how the accession of the "perfect Renaissance prince" Henry VIII in 1509 was greeted with acclamation and relief, including, ironically in view of later events, by Thomas More in terms of what now seem fairly extreme sycophancy. The book, or perhaps another one, could perhaps go further into how Henry VII's experiences of exile in Brittany formed his later character. A fascinating look at a time of transition between Medieval and modern England. 5/5
Review by Helenliz
16/06/2015
This is an interesting and well constructed history of Henry VII. He tends to get defined in relation to the events before and after his reign, rather than his reign itself. So the beginning of his reign is all bout bringing an end to the Wars of the Roses, marrying Elizabeth of York and overcoming the usurper Richard III. All spring and new beginnings. The end of his reign is the coming of the glorious Henry VIII and the end of the miser, he's moved from Spring to Winter in the intervening years. This looks at how he came to take the crown and what he did with it when he got it. Lots of detail to bring the thing to life, lots of characters and bit players, some of whom play greater roles in the near future as well. Very well done.