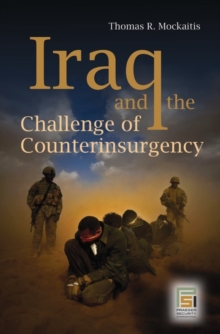 Iraq and the Challenge of Counterinsurgency
Hardback
Description
Mockaitis begins by providing a working definition of counterinsurgency that distinguishes it from conventional war while discussing the insurgents' uses of terror as a method to support their broader strategy of gaining control of a country.
Insurgent movements, he notes, use terror far more selectively than do terrorist organizations like al-Qaeda, which kills indiscriminately and is more than willing to produce mass casualties.
Such methods stand in stark contrast to the American approach to armed conflict, which is more ideally suited to pragmatic culture leery of involvement in protracted foreign wars and demands immediate results.
Within this context, Mocktaitis examines the conflict in Iraq, from post conflict troubles with Saddam in the early 1990s, to pre-invasion planning in 2003. He then moves into a discussion of the rise of insurgent movements and the challenges they posed in the aftermath of the fighting, tracing the ongoing efforts to shape a doctrine that allows US forces to successfully deal with the growing insurgency.
The U.S. military in Iraq faces the most complex counterinsurgency campaign in its history and perhaps the history of modern warfare. At the outset, it confronted as many as 22 different domestic insurgent and foreign terrorist groups in an environment made more difficult by thousands of criminals released by Saddam Hussein.
Over the past three years, the conflict has evolved with growing ethnic violence complicating an already difficult security situation.
Even the most optimistic assessments predict a continued deployment of significant U.S. forces for at least five years for the country to be stabilized.
It remains to be seen whether public opinion will support such a deployment.
Mockaitis situates the Iraq War in its broad historical and cultural context.
He argues that failure to prepare for counterinsurgency in the decades following the end of the Vietnam War left the U.S. military ill equipped to handle irregular warfare in the streets of Baghdad.
Lack of preparation and inadequate troop strength led American forces to adopt a conventional approach to unconventional war.
Over-reliance on firepower combined with cultural insensitivity to alienate many Iraqis.
However, during the first frustrating year of occupation, U.S. forces revised their approach, relearning lessons from past counterinsurgency campaigns and adapting them to the new situation. By the end of 2004, they had developed an effective strategy and tactics but continued to be hampered by troop shortages, compounded by the unreliability of many Iraqi police and military units.
The Army's new doctrine, embodied in FM 3-24 Counterinsurgency, outlines the correct approach to winning Iraq.
However, three years of desultory conflict amid ongoing revelations that the premises upon which the administration argued the need for invading Iraq may be false have eroded support for the war.
The American armed forces may soon find themselves in the unfortunate situation of having found a formula for success at almost the same time the voters demand withdrawal.
Information
Format: Hardback
Pages: 208 pages
Publisher: ABC-CLIO
Publication Date: 30/05/2008
Category: Armed conflict
ISBN: 9780275999476
Free Home Delivery
on all orders
Pick up orders
from local bookshops
Also in the Praeger Security International series | View all